In urban streams, pharmaceutical pollution is driving microbial resistance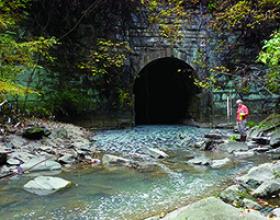 In urban streams, persistent pharmaceutical pollution can cause aquatic microbial communities to become resistant to drugs. So reports a new study published today in the journal Ecosphere.
Emma Rosi, an aquatic ecologist at the Cary Institute of Ecosystem Studies and lead author on the study explains, "Wastewater treatment facilities are not equipped to remove many pharmaceutical compounds. We were interested in how stream microorganisms - which perform key ecosystem services like removing nutrients and breaking down leaf litter - respond to pharmaceutical pollution."
Researchers evaluated the presence of pharmaceuticals - including painkillers, stimulants, antihistamines, and antibiotics - in four streams in Baltimore, Maryland. Then they measured the microbial response to drug exposure. Study sites were selected to represent a gradient of development, from suburban to urban.
Continue reading at Cary Institute of Ecosystem Studies
Image: Lead author Emma Rosi sampling in a Baltimore stream. CREDIT: Heather Bechtold