A risk assessment to prevent introduction of pest plant species in Mediterranean Europe
Netherlands 10 june 2010: The capacity to predict invasiveness of plant species is important for the conservation and management of natural habitats. Several Comunications, Directives, Conventions (CBD, Bern Convention) and Strategies signed by European States recommend to strictly control the introduction of non-native species and prevent accidental introductions. The spread of invasive alien species within Europe is, in fact, of a great and growing concern.
A recent study published in the June 2010 issue of the prestigious scientific Journal "Biological Invason" follows the needs of the mentioned legislative acts validating the effectiveness of a Weed Risk Assessment adapted for Mediterranean Europe. Many countries in the world have already adopted a WRA with the purpose of identifying high-risk species, thereby allowing decision-making on prevention and eradication so as to avoid ecological and economic harm.
Artificial selection for agricultural and horticulturally advantageous traits, such as greater fecundity, pest resistance, growth rates and geographical range may increase invasiveness capacity.
In particular, biofuel crops, which many countries are promoting as an alternative to fossil fuels, have many traits in common with the ideotype of an invasive species. Planting large quantities of vigorous plant varieties on a large scale by repeated introductions, often supported payment schemes, in different climates and soil conditions increases the likelihood of "crop escape", and subsequent, establishment of new biological invaders.
Within this framework, ISPRA (the Italian Research Institute lead by the Ministry of the Environment) developed Weed Risk Assessment (WRA), specific to Mediterranean Italy with the aim to assess the potential harm of the biofuel species cropping system.
While the biology and ecology of weed species are important aspects that aid recognition of the potential for invasion, an elaborate Weed Risk Assessment may help to determine which new crop should be considered a potential pest.
The screening was adapted from the Australian Weed Risk Assessment System which is used to regulate the importation of new plant species and has been used for longer and more widely than any other predictive model for invasive plants.
The adaptation of the WRA provided good accuracy for prediction across different life forms; with the support of the secondary screening tool, was able to correctly classify, as accepted or rejected, 95% of the species.
When the WRA was undertaken to assess biofuel species, the final results showed that at least 60% of the species are potentially invasive. Of these species some are already considered weeds in Italy (Acacia saligna, Ailanthus altissima, Helianthus tuberosus, Robinia pseudoacacia). Some are weeds elsewhere and there is at present no real cropping system in Italy (Jatropha curcus, Kochia scoparia, Miscanthus sinensis), while others have a native wild relative (Cynara cardunculus var. altilis). The authors of the paper endorse its use as a screening tool; for Mediterranean Europe, the WRA process could be used as a pre-entry screen for new biofuel crops with weedy tendencies. In addition WRA process may also be used as a management tool to control and reduce the proliferation of weed species that are already present in farmlands and that may harm biodiversity in agro-ecosystems. Targeting specific species, already identified in a WRA as potentially invasive species, would also facilitate an Early Warning System ensuring that new and emerging invasive plants are easily identified. The WRA is particularly recommended for those regions in Mediterranean Europe that intend to introduce new cultivation crops for energy production. In fact, simply changing the climate and soil parameters and evaluating the invasiveness potential from cultivar selection is sufficient for evaluating the invasiveness potential of alien species in a specific region.
http://www.springerlink.com/content/w4646x5478070w4u
Journal Reference:
Crosti R. et al. (2010) Use of a weed risk assessment for the Mediterranean region of Central Italy to prevent loss of functionality and biodiversity in agro-ecosystems.
Biological Invasion 12: 6 June, 2010 http://www.springerlink.com/content/w4646x5478070w4u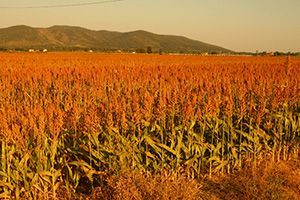 Photo: Sweet sorghum bioenergy cultivation in mediterranean region of Tuscany. Yearly survey is undertaken to monitor establishment outside the field.
Sustainablebioenergy#yahoo.com
Contact Info: