Hippo Works launches Kids Climate Change DVD as benefit for Global Green
The film launches with a solar powered screening party that inspires kids to live green.
Venice, CA – Dec.4th 2010 – Hippo Works is hosting a solar powered screening party of its new half-hour children's climate change program as a fundraiser for Global Green USA, sponsored by Whole Foods Venice, Seed Kitchen, Pizza Fusion, Coconut Bliss, and Eel River Brewery.
Simon Says "Let's Stop Climate Change!" features the same beloved characters from Hippo Works' syndicated eco cartoonlet It's A Jungle Out There! by Denis Thomopoulos. In this half-hour feature, the jungle group goes on an 'edutaining' adventure that teaches kids about global warming, the food chain, carbon footprints as well as eco habits such as "the Three Rs" (reducing, reusing and recycling).
Distributed on DVD by Library Video Company, the film is also available through hippoworks.com which will soon feature a new myHippoWorks club: a place where kids, families, and classes can share their progress in fighting climate change. For every Green Dollar kids earn through playing games, a real square foot of rainforest is purchased to help offset their carbon footprints.
Advance Praise for Simon Says "Let's Stop Climate Change!"
"The global warming issues that the film communicates are scientifically sound. Plus the film will be great fun for students!"
- Stephen H. Schneider, Ph.D. Stanford University, recipient of the 2007 collective Nobel Peace Prize
"This film connects kids to their planet with an understanding of how climate change affects them and what they can do to help stop it - all with characters my family just loves!"
- Davis Guggenheim, Director of An Inconvenient Truth
About Hippo Works
Hippo Works, a leading environmental edutainment company, syndicates eco cartoons to sites
such as AOL Kids, National Geographic Kids, Kid Mango, Care2.com, ClimateChangeEducation.org; to mobile carriers such as AT&T, T-Mobile, and Verizon; and to retail locations through Indoor Direct.
About Global Green USA
Global Green USA - the American arm of President Gorbachev's Green Cross International - is a national leader in advocating for smart solutions to climate change. For more than 15 years, Global Green's LEED-accredited staff has spearheaded applying green building technology to schools and affordable housing, while advancing groundbreaking solar, green building, and energy efficiency legislation.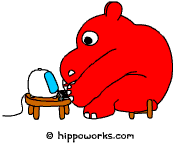 Contact Info: Lucas Vandenberg at Fifty & Five LLC, LV@fiftyandfive.com
Website : Hippo Works