MD-AEP Signs Water Partnership Agreement with Singapore
Baltimore, July 11, 2011. The Maryland-Asia Environmental Partnership (MD-AEP) signed a Memorandum of Understanding (MoU) with PUB, Singapore's national water agency, on July 7 in Singapore at Singapore International Water Week (SIWW).
The partnership agreement with PUB is aimed at building collaborative water related partnerships between Maryland-based government, science and business groups to work cooperatively with their counterparts in Singapore as it exports its urban water management model throughout Asia.
"Singapore is a world leader in urban water solutions as they have led the way in desalinization, water reuse and water catchment expertise," said Peter R Gourlay, President and Founder of MD-AEP. "We've engaged Singapore since the launching of MD-AEP recognizing that Singapore's water expertise has been widely sought from countries that are suffering from water scarcity and lack of water management. Through this partnership with Singapore, we believe that Maryland can provide some value added expertise with its good governance, science and empirical data modeling, in addition to its innovative clean up technologies being tested in Baltimore's Inner Harbor, the Bay's tributaries and open waterways," he said.
Chesapeake Bay, the largest estuary in the United States, is one of the most studied water bodies on earth and is the recipient of over 80 years of scientific research and investment. "Many Asian environmental delegations come to Chesapeake Bay to learn from us on how we've handled the management of the largest estuary in the U.S. including such issues as rising sea levels, endangered fish habitats, waterborne disease, nutrient management, algal blooms and much more," said Gourlay. "We recognize that many parts of Asia are facing severe water stress and the solutions will require holistic approaches from a public-private perspective," he said.
In the coming months, Gourlay will work with the collaborating organizations, listed in the MoU, from Maryland to help match them with the appropriate counterparts in Singapore. Each of the organizations has indicated an interest in working with Singapore on providing their respective services as part of Singapore's urban water export management model
Collaborating Maryland-based partners listed in the MoU bring unique water related expertise including: NOAA's Oxford Lab (health of tributaries), USGS' Patuxent Wildlife Research Center (coastal impact), University of Maryland's (UMD) College of Agriculture and Natural Resources (nutrient management and food safety), UMD's Center for Integrative Environmental Research (sustainable cities), UMD's Pathogen Research Institute (waterborne disease), the Maryland Clean Energy Center (water‐energy technologies), JHU's Carey Business School(environmental finance) and IM Research (climate change).
MD-AEP led a 14 member delegation of Maryland water experts to Asia to participate in Singapore International Water Week 2011 from 4-8 July.
The delegation was led by MD-AEP Founder and President Peter Gourlay who was accompanied by executives from KCI Technologies, I.M. Systems Group, Formos and Everpure Hi-Tec Water Solutions, PVT, Ltd. In addition, the following firms and organizations requested that MD-AEP to represent them in the Maryland pavilion including: Zephyr Environmental Corporation, Clean Green Chesapeake, Bluewing Environmental Solutions and Technologies, DSC Dredge, the Institute for Marine and Environmental Technology, University of Maryland College of Agriculture and Natural Resources, the Maryland Department of Business and Economic Development, and Talbot County Office of Economic Development.
For the companies that attended SIWW with MD-AEP, one company was able to meet with key ministers from other Asian countries to help move forward some projects in the region and another is pursuing an agreement to test pilot its cutting edge wastewater technology. When asked about the value of being part of the MD-AEP delegation to Singapore, Farid Gozashti, Director of Everpure High-Tec Water Solutions PVT LTD said, "it's probably the best thing we've ever done."
"There are very few global water conferences that will afford you the opportunity to not only meet global water leaders, but to also meet both the Founding Father of the host country, in Lee Kwan Yew, as well as the current Prime Minister of Singapore Lee Hsien Loong," said Gourlay. "This week was truly a fantastic opportunity for Maryland, our delegates and our MD-AEP mission," he said.
Photo Gallery http://mdaep.smugmug.com/Environment/SIWW2011/17986588_38MtZ2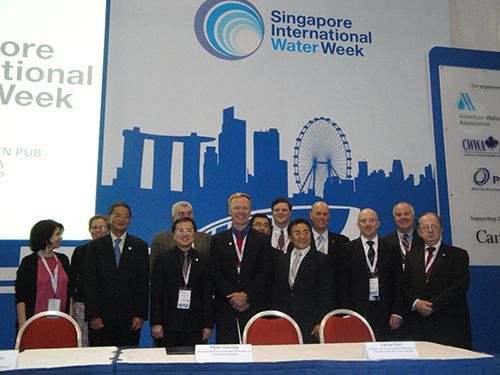 Contact Info:
Website : Maryland-Asia Environmental Partnership