COMMUNITY ENVIRONMENTAL CENTER JOINS BUILDINGS COMMISSIONER ROBERT LIMANDRI AND CHIEF SERVICE OFFICER DIAHANN BILLINGS-BURFORD FOR 3RD SEASON LAUNCH OF NYC °COOLROOFS
Queens College hosts the launch of year 3 of NYC °CoolRoofs, which aims to coat one million square feet of NYC rooftop in 2012
June 4, 2012—Queens, NY—The sky was overcast when Community Environmental Center (CEC) joined NYC Buildings Commissioner Robert LiMandri and NYC Chief Service Officer Diahann Billings-Burford to launch the 3rd year of NYC CoolRoofs. The setting was the rooftop of Kiely Hall at Queens College, and in anticipation that the sun would come out again, volunteers had covered a 7,200-square-foot section of the building's spacious, low roof with a white, reflective coating.
Since 2010, NYC °CoolRoofs has coated 2.6 million square feet of New York City rooftop, to lessen the absorption of sunlight and lower the temperatures within and outside of the city's buildings. For 2012, the goal is to coat an additional one million square feet.
"All of us can play a role in making New York the greenest, greatest city in the world," said Commissioner LiMandri. "A cool roof is an easy and effective way to help the City reduce its carbon footprint by 2030, and the tremendous success of the program is due to its simplicity—for property owners and the volunteers who want to lend a hand. By coating a rooftop, you will not only lower your building's energy consumption and costs, but also help reduce the City's carbon emissions, overall temperature and stress on the power grid."
Community Environmental Center, the Queens-based nonprofit dedicated to bringing energy efficiency to New York City buildings, manages the day-to-day operations of the °CoolRoofs Program, an assignment that, according to CEC President Richard Cherry, "includes identifying and inspecting potential buildings, supervising the coating, managing the delivery of painting materials, and coordinating volunteers on painting days – everything connected to making a successful painting day."
Con Edison is the lead sponsor of the 2012 season, and Frances Resheske, Con Edison's Senior Vice President for Public Affairs, was on hand to celebrate the launch, as were Queens College President James L. Muyskens and Lisbeth Shepherd, Executive Director of Green City Force, which also partners with the City on this project.
To help evaluate the effects of cool roofs on New York City, Columbia University's Center for Climate System Research has set up an NYC °CoolRoofs monitoring station on the roof of the Museum of Modern Art's storage and research facility in Long Island City, Queens. According to the Department of Buildings (DOB), every 15 minutes the station measures and logs black surface temperatures vs. white surface temperatures, reflected sunlight and thermal emissivity.
The DOB reports, for instance, that on July 22, 2011 – a day that set a City record for electricity usage – white, reflective roofs were 42 degrees Fahrenheit cooler than dark roofs, which reached temperatures of 170 degrees Fahrenheit.
The Columbia University Climate Research Study has found that white roofs are 43 degrees cooler on average than the dark roofs on the majority of the city's buildings.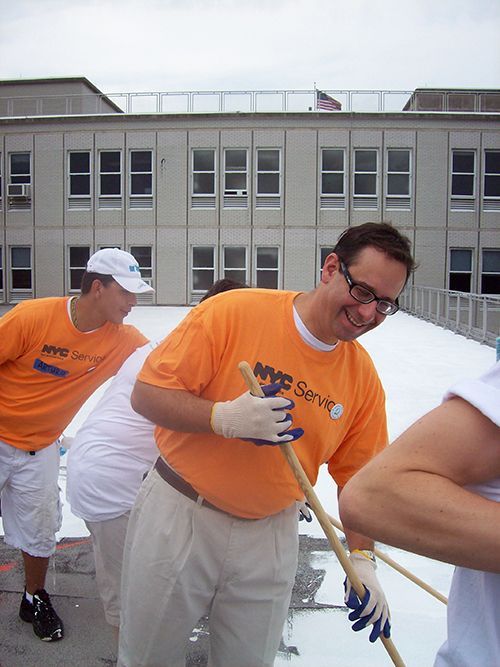 Commissioner LiMandri Helps Launch CoolRoofs
Contact Info:
Website : Community Environmental Center