Living Green Magazine Is Having Fun in the Global Warming Sun This Summer
Living Green Magazine™ is offering their eco-friendly friends some respite from the record-setting heat with some cool green fun. Besides our Summer Guide, with articles on healthy food, refreshing drinks, and cool ways to beat the summer heat, the staff at LivingGreenMag.com also invites readers to enjoy these entertaining, if not slightly irreverent, eco-activities.
Pick Out Your Favorite Green Wedding Dress for Angelina Jolie
Angelina has set the date for her wedding to Brad Pitt with the help of a trusted monk using Buddhist astrology. Now what will she wear?
The Green Bride Guide™, the nation's leading resource for green wedding ideas, products and services, wants to encourage Ms. Jolie to choose a gown that matches her humanitarian values and international causes. They teamed up with six of the best green designers to create several different looks for Angelina Jolie's wedding dress. Each designer brought something unique to the table, evoking Angie's demure style with an edge—and we have the sketches to show you!
Check out our take on the wedding party, and vote for your favorite dress at www. LivingGreenMag.com/Angelina
What Were They Thinking? Accepting Nominations for the Worst Eco-Video Ever!
Most videos about the oceans, environment, wildlife, pollution, fracking, GMO's, etc. are compelling videos that can move an audience. In fact, most eco-videos deserve an "A" for effort, even if they aren't a high-quality production. However, a few videos make us want to ask the people who approved them: What were you thinking?
We want your nominations for the worst eco-video ever. That's a big task, but we'll spend all summer looking for the perfect wave of nausea caused by some tree hugger's bad judgment. See some of our video picks that are merely quirky and propagandist, then look at some that are depressing and downright sick—but with the same good intentions that pave the way to hell.
Read, see, and nominate at www.livinggreenmag.com/video.
Caption the Animal Photo on Our Facebook Page – and Win an LGM Cap
Living Green Magazine wants to create some eco-fun this summer with our CAPtion THIS!
Facebook competition.
Post your best caption as a comment – it can be the thoughts or words of the animal(s) in the photo, or your funny take on what you see. Then recruit all your friends and followers to "like" your caption.
The person who posted the caption with the most "likes" will win a baseball cap with the Living Green Magazine logo. These caps can't be bought in stores or even online, but one could be yours FREE if you submit the most liked caption.
Be clever, be green, and be clean! This contest runs until 11:59 pm Eastern daylight time on July 20. Go to www.facebook.com/pages/Living-Green-Magazine.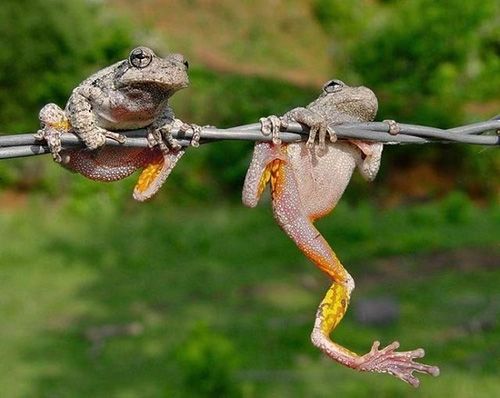 Post your best caption for this photo on Living Green Magazine's Facebook page—and you could be a winner!

Contact Info: Richard Kujawski, Managing Edior
richard@livinggreenmag.com
419-345-5275

Website : Living Green Magazine