BURNS BOG CONSERVATION SOCIETY APPEALING FEDERAL DECISION
Delta, B.C - The Burns Bog Conservation Society has filed an appeal in its lawsuit against the Government of Canada, an attempt to force the government to abide by its obligations to conserve the wetland of Burns Bog for future generations. The society is trying to stop a proposed highway (the South Fraser Perimeter Road) which threatens the wetland, but the federal government does not recognize the covenant as legally binding.
The society filed its appeal in federal court on September 27 2012. The goal is to overturn the summary judgement against them on August 29, 2012. The original lawsuit was dismissed on an issue of standing, and did not consider the allegations made.
The Society's appeal states that the court's failure to consider the environmental issues on their merits was a mistake, and reasserts the legal importance of the 2004 conservation covenant. The covenant was an agreement signed jointly by the governments of Canada, British Columbia, Corporation of Delta, and Metro Vancouver, which created the Burns Bog Ecological Conservancy Area.
The society's president, Eliza Olson, has consistently stated that the South Fraser Perimeter Road is an infringement of the government's obligations under the conservation covenant. "The Society doesn't want to stop the road. We want it moved. Every time you scoop a bucket of peat out of the Bog, you are putting ten times more carbon into the atmosphere, than if you were scooping a bucket of sand off the beach." The Society believes the construction of the SFPR threatens the bog's survival and is therefore an infringement of the covenant.
Burns Bog is one of several sites in South Delta given the international Ramsar wetland designation last week. The Ramsar Convention on Wetlands, created in 1971, identifies sites of international importance and urges their "wise use" to preserve important ecological services. Olson noted that the convention carries "moral weight" but not "legal weight." "I wonder if the federal government's left hand knows what its right hand is doing," she said. The Society emphasized the unique legal nature of the covenant and the need for a full trial to settle open questions of law.
The Society's appeal is just one of several lawsuits from environmental groups in British Columbia. On Wednesday, applications were filed by a coalition of conservation groups suing the federal environment minister Peter Kent. The coalition, like the Society, feels the government is breaching its duty to the people to enforce environmental protections. The lawsuit contends that the government has not met its legal obligations to protect endangered species along the proposed route for Northern Gateway pipeline.
BACKGROUND INFORMATION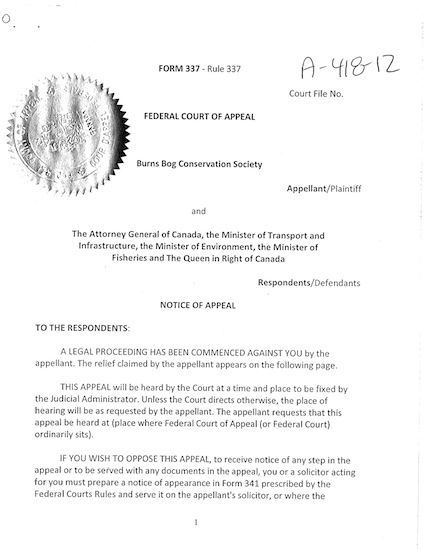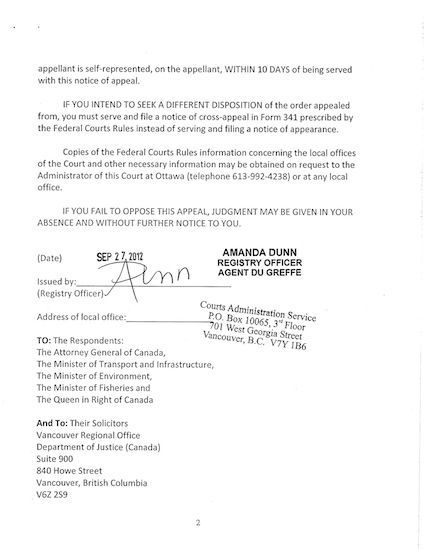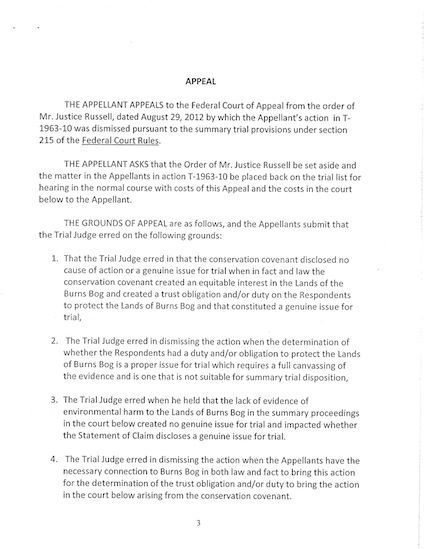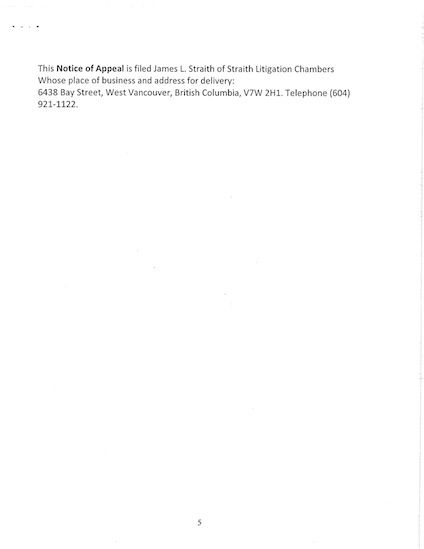 Contact Info: Eliza Olson
604-572-0373
eliza@burnsbog.org

Website : Burns Bog Conservation Society