Marine Conservation Institute Calls for Tighter Law Enforcement in Pacific Marine Monuments
Report Highlights Tools and Tactics to Improve Enforcement Efforts
WASHINGTON, DC – In response to illegal incursions and fishing in America's Pacific marine monuments, the Marine Conservation Institute today released a study that recommends ways to help law enforcement agencies combat threats to one of America's last relatively unspoiled frontiers. Fishermen and recreational sailors have already damaged coral reefs and other marine wildlife by vessel groundings and spills and by introducing invasive species on island wildlife refuges that constitute the heart of the monuments.
"The protective shield for our Pacific ocean gems must be strengthened to deter and punish illegal activity," said Lance Morgan, President and CEO of Marine Conservation Institute. "While US enforcement is doing its best with limited resources, there are still many gaps and areas for improvement."
To combat illegal encroachment into these internationally recognized conservation areas, Marine Conservation Institute recommends several steps:
Establish long overdue fishery regulations that implement the 2009 presidential prohibition on commercial fishing in the Marianas Trench, Pacific Remote Islands and Rose Atoll Marine National Monuments;
Increase surveillance and enforcement funding for the National Oceanic and Atmospheric Administration, the US Coast Guard and the US Fish and Wildlife Service, the agencies responsible for law enforcement in the monuments;
Improve outreach to commercial and recreational vessel owners to eliminate confusion and unintended violations, and make monument and wildlife refuge boundaries clear on all nautical charts; and
Implement innovative methods of surveillance that enable law enforcement agencies to better patrol the monuments and sanctuaries, including engaging law-abiding US fishermen who witness illegal activity.
"Our Pacific marine monuments are part of America's great natural heritage," said William Chandler, Vice President for Government Affairs. "Our goal in releasing the report," he continued, "is to help Pacific law enforcement agencies better patrol these remote sites scattered across a vast ocean. They are dedicated to the task but could use more resources, partners, and innovative tactics."
The area of ocean involved – 335,000 square miles – is almost three times the size of all national parks combined, and contains the most diverse and relatively-pristine coral reefs in the US. The four Pacific marine monuments are spread across the largest area of ocean managed under one country's jurisdiction which makes monitoring and enforcement a herculean task.
To read the Executive Summary and the Full Report
Executive Summary
Full Report
About Marine Conservation Institute
Marine Conservation Institute is a nonprofit organization dedicated to saving our living oceans. We work with scientists, politicians, government officials and other organizations around the world to protect essential ocean places and the wild species in them.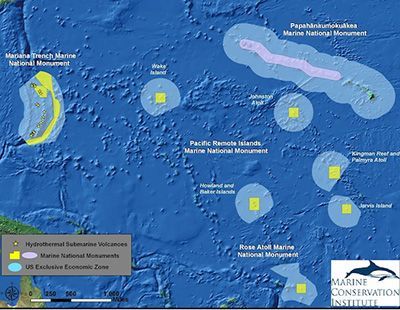 Map of Pacific Marine Monuments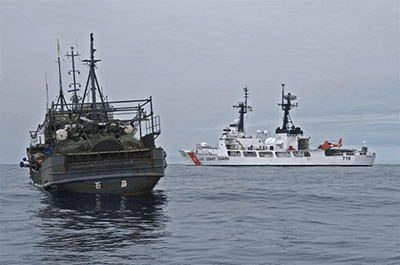 USCG intercepting IUU fishing boat

Contact Info: William Chandler
(202) 546 5346
william.chandler@marine-conservation.org
marine-conservation.org

Website : Marine Conservation Institute