HCR Commissioner Darryl Towns to speak Oct. 30 in Brooklyn on Weatherization Day
New York State Homes and Community Renewal Commissioner Darryl Towns will speak at a Weatherization Day event hosted by Community Environmental Center in Brooklyn's McCarren Park, Oct. 30; the Community Environmental Center EcoHouse will also be featured.
New York, NY—Darryl Towns, the Commissioner of the New York State Homes and Community Renewal, will speak on October 30, 2012 at a unique Weatherization Day event hosted by the nonprofit Community Environmental Center (CEC) at Brooklyn's McCarren Park, announced Richard Cherry, CEC's president.
The event will take place at McCarren Park, diagonally across from the McCarren Play Center, on Lorimer Street between Bayard Street and Driggs Avenue. It will begin at 1:00 PM with a tour of CEC's EcoHouse – a mobile environmental exhibit that resembles a house-on-wheels -- and a weatherization demonstration. The Commissioner is scheduled to speak at 1:30 PM.
Representatives of Brooklyn weatherization agencies Bedford-Stuyvesant Restoration Corporation, Crown Heights Jewish Community Council, Opportunity Development Association, and Sunset Park Redevelopment will join the event.
"We are all delighted to welcome Commissioner Towns on this special day," said CEC's Cherry. "The Commissioner and HCR have been stalwart supporters of weatherization and New York State's weatherization agencies."
"It is vitally important to maintain a high level of funding for the federal Weatherization Assistance Program," noted Cherry. "Unfortunately, the Continuing Appropriations Resolution cuts federal funding for weatherization to way below pre-Stimulus levels. How can we help families who cannot afford energy efficiency home improvements on their own? How can we help them save money and live healthily? Weatherization Assistance is a great American program – it helps Americans live safely, creates American jobs and puts money back into the American economy. It should be as strong as possible."
For more information about Weatherization Day, please contact Alexis Greene, 718-784-1444, ext. 156. For information about CEC please visit www.CECenter.org or www.CECenter.org/EcoHouse/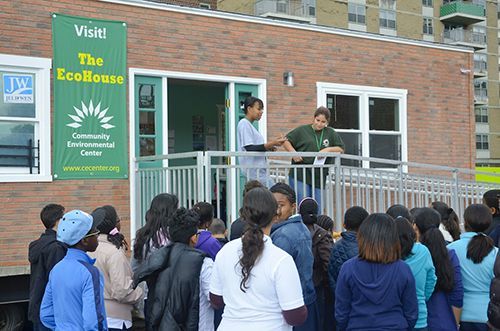 CED's EcoHouse with Brooklyn students.

Contact Info:
Website : Community Environmental Center