EPA APPROVAL OF SYSTEMIC PESTICIDES THREATENS U.S. FOOD SUPPLY AND AGRICULTURE JOBS BY KILLING BEES
Original investigative report on Earth Focus series Premieres on Link TV on Monday, October 22 at 9:30pm PT (12:30am ET) and Thursday, October 25 at 9:00pm ET (6:00pm PT) Now available online at www.linktv.org/killingbees
The US food supply and one in twelve American agriculture jobs are directly threatened by the EPA's decision to approve the use of a controversial pesticide that has led to the catastrophic destruction of millions of honeybees essential to the food production ecosystem, reveals a new investigative TV special Killing Bees: Are Industry and Government Responsible?, produced by Link TV's environmental news magazine Earth Focus.
The report documents how the US Environmental Protection Agency (EPA) gave conditional approval in 2003 of the use of the pesticide Clothianidin in the US, despite concerns by EPA scientists that it may be highly toxic to pollinators and without adequate testing to ensure its safety for bees. This decision contributed to a devastating ripple effect that begins with the destruction of honeybees, which are essential pollinators for most American crops
While the US Department of Agriculture (USDA) reports annual honeybee colony losses of about 30 percent annually, US beekeepers say the losses are much higher – 50 to 80 percent. According to Colorado beekeeper Tom Theobald, "We are at the tipping point, one or two years away from disaster."
The pesticide, Clothianidin, is a neonicotinoid, a class of systemic pesticides related to nicotine that affect the neurological system of insects. Growing scientific evidence shows that neonicotinoids are accelerating bee death and may be closely linked to colony collapse disorder, the massive die- off of honeybee colonies experienced in the US since 2006.
Sales of neonicotinoid pesticides such as Clothianidin and Imidacloprid in the US bring in close to a billion dollars annually to the chemical industry. According to experts interviewed in the half-hour Link TV program Killing Bees: Are Industry and Government Responsible?, adequate studies on the risk Clothianidin poses to bees have still not been completed.
Today, Clothianidin is used on almost all American corn as well as soybeans and other crops.
Honeybees are exposed to neonicotinoids through pollen, nectar, liquid exuded on plant leaves and through dust exhausted from seed planting, even if the bees are not pollinating that crop. "This report provides critical new information about the toxicity of neonicotinoids to bees and shows how the US regulatory system falls short in protecting the environment, our agricultural system and ultimately our economy," says Earth Focus producer Raisa Scriabine.
According to the US Environmental Protection Agency, Clothianidin is currently undergoing registration review. "If at anytime during our reevaluation, the science indicates that in fact, neonicotinoid pesticides used according to the label instructions are not meeting the protection standards of the Federal Insecticide, Fungicide and Rodenticide Act (FIFRA), the EPA will take necessary regulatory action." (EPA Press Office letter to Earth Focus, August 21, 2012)
Killing Bees: Are Industry and Government Responsible? will be broadcast nationally in the US on Link TV (DIRECTV channel 375 and DISH Network channel 9410) on Monday, October 22 at 9:30pm Pacific Time (12:30am Eastern Time) and on Thursday, October 25 at 9:00pm Eastern Time (6:00pm Pacific Time). It is also available for streaming at www.linktv.org/killingbees.
The Earth Focus special report was produced with generous support from Harriet Crosby, the Wallace Genetic Foundation, the Park Foundation and the Marisla Foundation.
ABOUT EARTH FOCUS:
Earth Focus is an original broadcast and web series on Link TV that reports on urgent environmental issues and features organizations working to find solutions. Broadcast in a weekly primetime slot, with new episodes each month, the magazine format video program is the longest running environmental current affairs program on US television. Earth Focus includes original investigative reports, acquired content, and interviews with environmental leaders, policymakers, activists, filmmakers and authors. The series is designed to encourage citizen participation by linking viewers to groups that promote environmental, health related and social justice causes. http://www.linktv.org/earthfocus
ABOUT LINK MEDIA & LINK TV:
Link Media uses media and the power of stories to engage, inform and inspire its audiences to participate in transformational, sustainable change on issues of global importance. Founded in 1999, Link Media operates the Link TV national network and the websites LinkTV.org, LinkNews and ViewChange.org. An independent and non-commercial media company, Link Media acquires, produces and delivers global news, documentaries and cultural programming over three distribution channels: broadcast, Web and mobile devices.
Link TV is available as basic service on DIRECTV channel 375 and DISH Network channel 9410, reaching more than 33 million US households. Select Link TV programming also airs on 220 cable outlets, including in New York, Los Angeles and San Francisco, reaching an additional 22 million homes. Link also streams much of its content online at LinkTV.org. For complete background information, program schedule and Internet streaming, go to LinkTV.org. Follow on Twitter @linktv, and on Facebook at www.facebook.com/linktv.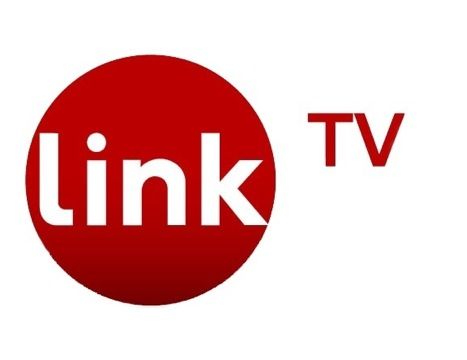 Contact Info: Raisa Scriabine
(301) 365-1203 ascriabine@linktv.org
Website : Link TV