The Community Environmental Center EcoHouse to be Featured at Brooklyn Weatherization Day Event October 30
The Community Environmental Center EcoHouse, a mobile, free, environmental exhibit, will be featured at a Weatherization Day event in Brooklyn's McCarren Park October 30, from 1:00 PM to 3:00 PM.
New York, NY — When weatherization providers and recipients speak at Brooklyn's McCarren Park on October 30, they will be standing on the steps of the Community Environmental EcoHouse – an exhibition built to travel around New York City neighborhoods, to educate people about protecting the environment by saving energy in their home or apartment.
"The EcoHouse demonstrates the vital work that weatherization can accomplish," says Richard Cherry, the president of Community Environmental Center (CEC). Founded by Cherry in 1994, CEC is one of the largest weatherization assistance providers in New York State, bringing weatherization to low-income home owners and multifamily buildings in Brooklyn and Queens.
Resembling a house on wheels, the EcoHouse contains informational and hands-on displays about almost everything that can help a home or apartment save energy, including a heating system, a lighting display and insulation. An interactive shower demonstrates how much water a traditional showerhead uses, and how much a low-flow showerhead saves. A meter display shows how much electricity is used when one turns on a light.
"The Weatherization Assistance Program – WAP -- has helped thousands of Americans save energy, save money and protect the environment," says Cherry. "Now, unfortunately, federal funding for WAP is in jeopardy. Hopefully the EcoHouse will help demonstrate how invaluable the weatherization program is."
The EcoHouse will be open to the public at McCarren Park from October 25 through November 3. For information about hours and group tours, please go to www.CECenter.org/ecohouse/
For information about CEC's Weatherization Day event contact Alexis Greene, agreene@cecenter.org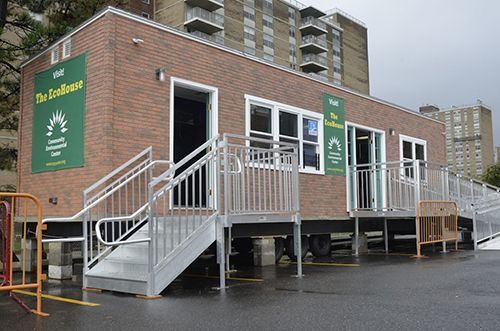 Photo by Peter Sylvester
Contact Info:
Website : Community Environmental Center