NEW POSTER DISPLAY OF EXTREME WEATHER AND CLIMATE CHANGE INSTALLED IN WASHINGTON, D.C.
Washington, D.C. November 5, 2012 – A new "This Is Climate Change" poster depicting extreme weather was installed last weekend at Reagan National Airport in Washington, DC. The poster illustrates contrasting weather events: drought and flooding. Recent scientific studies are indicating a link between the increasing frequency of severe weather and climate change. The poster is part of a global warming awareness project sponsored by Del Mar Global Trust.
This Is Climate Change (TICC) is a project that places photographs and other visual aids in public locations to show that climate change is not only real but is already impacting the Untied States. The displays are designed to convey information "at a glance" to a diverse audience.
The extreme weather poster enforces the general public's evolving views on climate change. A March 2012 survey conducted by Yale University found that 74% of Americans agree with the statement "global warming is affecting weather in the United States." Also, 61% agreed that the weather in the US has been getting worse over the past few years.
The United States experienced an unprecedented increase in the frequency of extreme weather events this past year, including heat waves, droughts, tornadoes, wildfires and floods.
Hurricane Sandy recently devastated parts of the coastal Northeast, caused at least 110 deaths, destroyed billions of dollars worth of property and left thousands homeless. Sandy enforces the trend of increasing severe weather events that are characteristic of climate change. TICC director Elena Marszalek explains, "Americans are seeing climate change with their own eyes, and they are now personally experiencing the consequences of extreme weather. Only when Americans recognize that climate change is real, and that the consequences are unacceptable, will the government put in place the policies needed for solutions at the domestic and international levels."
The This Is Climate Changeposter may be seen at Reagan National Airport in Washington, DC through August 2013. The location is the prime airport in the Nation's Capital, with an average of 1.6 million government, business and tourist passengers passing through each month. The website www.ThisIsClimateChange.org has more detailed information on the project and includes a photo gallery. Future display dates and locations will be announced on the website.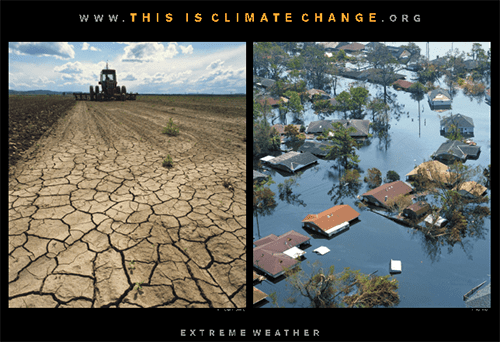 Photo credits: Larry Mayer/Creatas/Jupiter Images and FEMA/Jocelyn Augustino
Del Mar Global Trust is a registered 501(c)(3) nonprofit with an aim to promote a harmonious existence between man and the natural environment. Visit the website www.DelMarGlobalTrust.org for more information.
Contact Info: Elena Marszalek
em@delmarglobaltrust.org
(202) 250-1000
Website : Del Mar Global Trust