The Che Guevaras Fighting for the Elephants
Los Angeles, California, December 12, 2012 - A New global initiative on elephant protection & welfare, the Elephant Advocacy League (EAL), is born.
An innovative and unconventional organization experienced in fighting poachers in Africa's bush and in engaging the public opinion in the tricky world of global communication.
Not afraid to fight elephant exploitation on both fronts.
The heterogeneous team of EAL is made up of a new breed of conservationists, with a strong background in high-level security & investigation, communication, innovation and business.
The initiative was already blessed by some of the most important elephant experts and wildlife protection organizations in the world, like Dr. Joyce Poole of Elephant Voices,
Dr. Cynthia Moss of The Amboseli Trust for Elephants, Dr. Lucy King of Save the Elephants,
TUSK USA, Conservation Justice, PALF, Elephant Family and the David Shepherd WF.
The Elephant Advocacy League (EAL) operates like an action-oriented Public Relations & Crisis Communication firm, which serves one client only: the elephant.
EAL raises much needed money to fund concrete projects in two specific areas:
human-elephant conflict and anti-poaching training, which are beneficial to both elephants and people.
EAL is co-funding a research in Mozambique by Dr. Lucy King who is testing the use of beehives to mitigate human-elephant conflict.
EAL is also planning a wildlife crime related security survey in central Africa and anti-poaching training activities in Eastern and Central Africa, in collaboration with other NGOs.
EAL felt the need to better explain to the general public (not just animal lovers), in the West but also in Asia, the extent of elephant exploitation, the tragedy around the ivory trade, the human toll, and the uniqueness of the elephant's mind, one of the top four intelligences on Earth, including man, apes and cetaceans.
There's a need for a newer, fresher, more comprehensive but "down to Earth" way to engage people and talk about important issues like poaching, ivory, human-elephant conflict and elephants in captivity.
EAL is working on creative global communication campaigns that aim to
reposition elephants, their amazing intelligence and their tragic exploitation in the general public's eye. "We want to re-brand the elephant", EAL's director Andrea Crosta said.
The Elephant Advocacy League (EAL), founded in November 2012, is registered in the State of California and has offices in the Netherlands and Italy.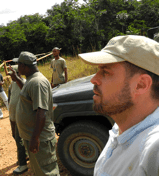 EAL's director Andrea Crosta in Central Africa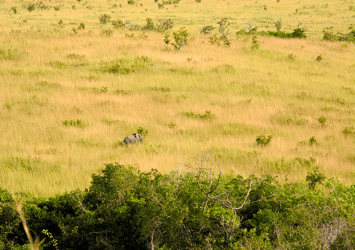 A rare image of a forest elephant in Gabon
More pictures here: http://elephantleague.org/from-the-field-2

Contact Info: Mr. Andrea Crosta, director and co-founder
ac@elephantleague.org
ph: +31 631347575 (CET)
www.elephantleague.org
facebook.com/ElephantAdvocacyLeague
twitter.com/ElephantLeague

Mr. Andrea Crosta,
ac@elephantleague.org
phone: +31 631347575 (CET)
www.elephantleague.org

Website : Elephant Advocacy League