NEW DOCUMENTARY SEED: THE UNTOLD STORY WILL UNEARTH A DAVID AND GOLIATH BATTLE IN STORY OF SEEDS
FILM IN-PRODUCTION WILL TELL WHY IN THE PAST CENTURY MORE THAN 90% OF OUR SEED VARIETIES HAVE DISAPPEARED FROM FARMERS FIELDS AND HOW A NEW MOVEMENT OF PEOPLE ARE BRINGING THEM BACK.
Portland, OR - The filmmakers behind Queen of the Sun: What are the Bees Telling Us?and Real Dirt on Farmer John are running a Kickstarter Campaign for their new documentary film SEED: The Untold Story. The campaign has sprouted past their $50,000 goal thanks to over 900 backers who are helping to make the film possible by pledging anywhere from $1 to $2,500 dollars to the production of the film. SEED's Kickstarter crowdfunding campaign ends on January 25th, 2013. With just under a week left, the campaign is striving to reach a "stretch" goal of $75,000 to fund editing costs, a composer for the musical score, and an animation budget for the film.
SEED: The Untold Story will be the final film in the filmmaker's Biodiversity Triology. It will investigate the incredible loss of seed diversity in the past century by uncovering the dramatic story of seeds: the foundations of our food and the basis of life on earth.
SEED unveils a David and Goliath battle for the future of our seeds. Since 1903, 93% of our food seed varieties have disappeared from farmers fields. SEED examines how five chemical corporations have taken control of seeds through patents and genetic modification. By ceasing to make available seed varieties that are part of the shared commons, they are creating a world where the remaining seed stock is quickly becoming commodified, copyrighted and owned.
Entertaining and engaging, SEED follows a cast of unlikely heroes working tirelessly to preserve agricultural diversity as well as the rich knowledge held by indigenous cultures. These farmers, scientists, and seed collectors such as Gary Paul Nabhan, Bill McDorman, Vandana Shiva, Harald Hoven, Native American Emigdio Ballon and Winona LaDuke are the visionaries and caretakers of many of the world's remaining seeds. On an absorbing journey from farms to seed banks to the wild frontier, audiences will witness a brave new movement as these heroes struggle to create a vibrant web of biodiversity and resilience.
Through SEED, audiences will witness the beginnings of a new movement. In numerous agricultural centers around the world, SEED will follow farmers taking back their rights to seed, food and their land. SEED will inspire local communities to reverse an impending global food crisis by reclaiming seeds that can be freely dispersed, and adapted to their own conditions and culture.
Says SEED co-director Jon Betz, "The unique thing about Kickstarter is that we're going public with our ideas much earlier. So there's a dialogue right away, and this encourages us to form a community with our audience while we're still out there making the film. It's exciting, and for us, it changes the way we can make our films. All sorts of amazing connections come out of the woodwork. And with GMO labelling just on the ballot in California, I think we're now at a tipping point in this country for change when it comes to seeds and the way we grow our food."
SEED is produced by Collective Eye Films, a Portland, OR non-profit film production and distribution company. The filmmaker's plan to finish SEED by early 2014. The film will then be launched via film festivals, Community Screenings, on DVD and online. The filmmakers goal is for SEED to reveal the awe, wonder and hidden beauty of seeds and unearth the resilience and power that all seeds have to sustain, enliven and enrich our humanity. They hope to ignite the imagination of audiences, inspiring them to be part of a new movement to help sustain seed diversity.
To learn more about SEED: The Untold Story and support the film's Kickstarter campaign visit www.seedthemovie.com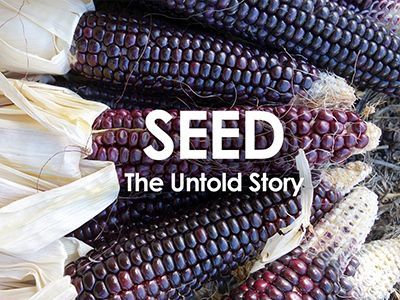 Contact Info: Jon Betz ( 503.232.5345 )
Email: seedproject@collectiveeye.org
Twitter: @seeduntoldstory

Website : SEED