The Community Environmental Center EcoHouse Teaches Young People about Saving Energy
The Community Environmental Center, a Queens-based nonprofit, has built the EcoHouse to teach young people about how to save energy and protect the environment.
Long Island City, NY -- The 8th-grader from Brooklyn's I.S. 364 sat at Community Environmental Center's EcoHouse light display, mesmerized. He gazed at compact fluorescent lights side-by-side with LEDs, side-by-side with an incandescent bulb. Flip a switch, and a meter revealed how much electricity each bulb used. "My favorite part about the EcoHouse," the boy later wrote, "is when they showed us the energy-saving light bulbs and the ones that use more energy, even though they aren't any brighter."
The nonprofit Community Environmental Center (CEC), a Queens-based nonprofit that has brought energy efficiency to the city's residential buildings and homes for almost 20 years, believes that teaching people to save energy on their own is essential.
And so in 2012, CEC designed and built the Community Environmental Center EcoHouse. Resembling a red-brick house-on-wheels on the outside, on the inside it's a 21st-century environmental classroom: there's a shower you can walk into, to compare the rates at which a low-flow showerhead and the old-fashioned kind provide water; there's an energy-efficient heating system and a display comparing three kinds of insulation (including shredded denim) – and much more.
"Energy-saving" is pretty important in these days of climate change," says Richard Cherry, CEC's president. "Especially in a city like New York, with nearly 1 million buildings. After all, buildings and homes use at least 1/3 of the energy consumed in the United States."
"What's really terrific," says Cherry, "is the eagerness that young people bring to the EcoHouse. They are fascinated by the light exhibit, by the insulation display, the water-conservation display. And they are the ones who, when they grow up, will really have to deal with the effects of climate change."
Of the more than 3,000 visitors that have come to the EcoHouse since it began traveling around New York City in October 2012, the majority have been students from the city's public schools, especially schools with dedicated environmental education programs.
In January and February 2013, the EcoHouse was co-hosted by I.S. 204 Oliver W. Holmes in Queens, which includes The Magnet School for Living Green in a Global Society. The I.S. 204 Magnet theme involves energy conservation, reducing consumption and practicing sustainability.
Says Yvonne Leimsider, I.S. 204's Principal, "The ideas behind 'Reduce, Reuse, Recycle' should be used everywhere in our homes. They should guide our choice of light bulbs; heating and cooling systems; the materials we use to insulate the walls; the cleaning products we buy. So the EcoHouse is a terrific tool for bringing these ideas to life for our students."
Indeed, the principles that guide I.S. 204's Magnet curriculum also guide the EcoHouse. Basically, as students learn more about conserving energy, they will practice saving energy in their daily lives and know the value of developing alternative resources such as sun and wind and biofuels.
Habits are set early, and it's never too soon for students to learn how their actions, for good or ill, can affect the health of our planet.
From April 10 through April 23, the EcoHouse will be at Foley Square in lower Manhattan. For more information about the Community Environmental Center EcoHouse: www.CECenter.org/ecohouse
To become a corporate sponsor for the EcoHouse, please contact Alexis Greene: agreene@cecenter.org.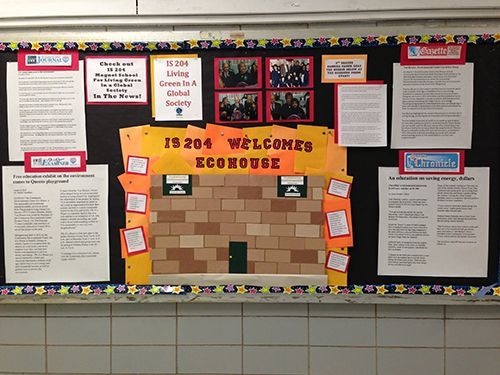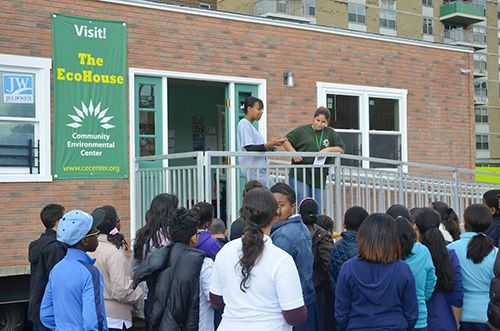 Contact Info: Alexis Greene
agreene@cecenter.org
Website : Community Environmental Center