Proyecto Mirador Honduras cookstove project sells 75,000 carbon offset credits
Proyecto Mirador LLC, a non-profit that has built 45,000 fuel-efficient cookstoves in the rural highlands of Honduras, today announced the sale of 75,000 Gold Standard Verified Emission Reduction (VER) credits to international climate and development specialist ClimateCare. This completes a second purchase of Proyecto Mirador VERs totaling 100,000 tCO2.
"We are proud to partner with Proyecto Mirador, a great example of the integrated style program that ClimateCare advocates. Not only does the project cut carbon emissions, helping tackle climate change, but it improves health by reducing toxic fumes and saves families money on fuel bills. " commented Edward Hanrahan, Director of ClimateCare.
ClimateCare has long been a pioneer in the carbon world and committed to tackling climate change, poverty and development issues. It helped develop the original Gold Standard methodology and importantly, with sales of more than 15 million tons of greenhouse gases, it is a proven global leader, helping businesses, governments and individuals across the world take responsibility for their impacts on people and the environment.
Richard Lawrence, Founder and Director of Proyecto Mirador, said, "This most recent sale enables us to grow construction from 18,000 stoves in 2011 to 28,000 stoves in 2013 and to have the confidence to continue expansion of the project. ClimateCare has been invaluable in delivering financial stability crucial to long-term growth, success and stable job creation of development projects. We are extremely proud to sell Proyecto Mirador Gold Standard issued carbon credits. The sale verifies that our project has met the highest standards of truth, sustainability and economic development in one of the poorest countries in the world."
Fuel efficient cookstoves are one of the least expensive and quickest ways to offset the world's ever-growing emissions while providing substantial health and welfare benefits. For example, just one low-cost, 5-year Dos por Tres stove uses about half the wood of a traditional stove, removes most toxic smoke from inside homes and can offset about 70% of the one-year carbon footprint of an average American.
ClimateCare is an independent, profit for purpose organization committed to creating intelligent streams of finance to fund large-scale emissions reduction and development projects. By financing ground-breaking projects spanning renewable energy, water purification and clean cookstove technology, the ClimateCare Climate and Development Model paves the way for substantial emissions reductions while delivering significant health, economic and social benefits in the world's least developed countries.
ClimateCare offers corporate organizations the opportunity to adopt a smart approach to addressing their environmental impacts by offsetting their carbon emissions and supporting sustainable development.
ClimateCare applies its expertise gained from 15 years' developing emissions reduction projects to lead pioneering methodologies that act as 'blueprints' for some of today's most innovative and advanced sustainable development projects. It develops innovative financial models to catalyze investment in Climate and Social Development projects. Its Gold Standard methodology for efficient cookstoves has facilitated the distribution of millions of cookstoves worldwide.
About Proyecto Mirador
Proyecto Mirador's Dos por Tres cookstoves use about half the amount of wood required by a traditional fogón stove and are a proven poverty intervention encompassing: reduction in greenhouse gas emissions; reduction in the toxic indoor smoke that causes severe health issues for women and children; and a reduction in wood cutting in threatened forests. Dos por Tres is Honduras slang for "in an instant." The name was created by a 12-year-old beneficiary who understood the stove's quick wood savings, improvements in home health and cleanliness.
Proyecto Mirador is a local Honduran organization that began in 2004 by building 200 stoves. PM constructed 18,000 stoves in 2012 and expects to build 28,000 in 2013. It has created 15 local microenterprises and more than 100 full time jobs.
PM is dedicated to training and educating its beneficiaries to ensure they understand how to keep stoves operating at peak efficiency and has a team of supervisors in the field every day visiting homes with stoves and gathering data on stove use.
Proyecto Mirador stoves are custom-built in individual homes and do not require a cash payment. Instead, the Dos por Tres is the result of co-investment between beneficiaries and Proyecto Mirador whereby beneficiaries supply readily available parts and materials and Proyecto Mirador supplies key parts and technical know-how. The stove is expected to last 5 years, unlike many other factory built stoves that only last about 2 years.
PM was the 4th stove project in the world to be certified by the Swiss based Gold Standard Foundation and has had four successful sales of carbon credits.
For further information please see:
http://www.proyectomirador.org
http://www.proyectomirador.org/video-testimonial
http://www.granthamfoundation.org/
http://www.cdmgoldstandard.org/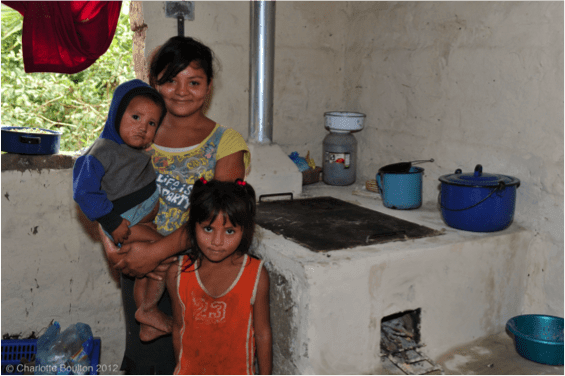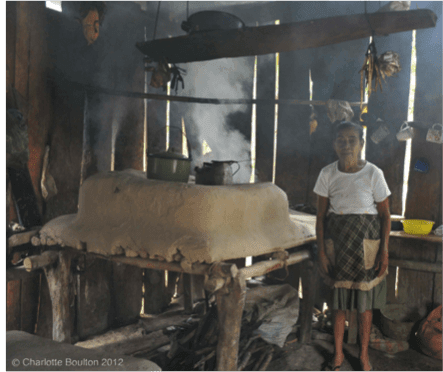 Contact Info: Dee Lawrence, Director
(415) 464.9590
dlawrence@proyectomirador.org

Website : Proyecto Mirador