CARL SAFINA LEAD SCIENTIST FOR GYRE EXPEDITION, SOUTHWEST ALASKA
Scientists, Artists and Educators Explore Marine Debris Crisis, Museum Exhibition to Follow
ANCHORAGE, Alaska – On June 7, an international team of scientists, artists and educators will launch an expedition to study the global marine debris crisis from one of the most breathtaking places on the planet: southwest Alaska. The Gyre project is a collaboration between the Anchorage Museum and Alaska SeaLife Center, in partnership with several national and Alaska-based organizations.
The Research Vessel Norseman will depart from Seward on Friday, June 7, and travel 450 nautical miles west from Resurrection Bay along the Kenai Peninsula coast, then cross the Kennedy Entrance channel to Shuyak and Afognak islands. Along the way, the crew will stop to observe, document and collect shoreline trash. The expedition will end with an intensive cleanup of Hallo Bay in Katmai National Park, a remote area that has experienced an influx of debris from the 2011 Japanese tsunami.
Howard Ferren of the Alaska SeaLife Center will head the expedition, along with lead scientist Carl Safina, Founding President of Blue Ocean Institute and Research Professor at Stony Brook University in New York. The expedition also includes representatives from the Smithsonian Institution, National Oceanic and Atmospheric Administration, National Geographic, Alaska Marine Stewardship Foundation, Anchorage Museum and Ocean Conservancy.
"I have strongly mixed feelings about this expedition," says Carl Safina. "I am hugely looking forward to a trip-of-a-lifetime to some of the planet's best remaining places with some of the planet's most committed people. It's such an honor. On the other hand, how sad it is that garbage and debris are what is calling us to wild shores, that massive windrows of trash are the new sirens. How tragic that civilization has not yet made a better deal with the world. But we will do our job, which is to bear witness. And to witness bears. And to say what is, and offer a vision of what could be."
This expedition is the first phase of the Gyre project. Phase two culminates in a 7,500-square-foot "Gyre" art and science exhibition on view at the Anchorage Museum from February through September, 2014. The exhibition will tell a global marine debris story through the work of more than 20 artists from around the world, including Los Angeles' Cynthia Minet, who re-purposes plastic containers into life-size animal sculptures, and San Francisco's Susan Middleton, who photographs the effects of marine debris on animals.
An exhibition section specific to Alaska will feature the 2013 expedition's resulting scientific discoveries, as well as art created from trash gathered on Alaska's beaches during the journey. The exhibition will incorporate content from the Burke Museum's "Plastics Unwrapped" exhibition, offering a scientific and cultural history of how plastics are used in our daily lives.
Following its Anchorage debut, the "Gyre" exhibition will be repackaged by the Smithsonian Institution for a tour of the continental U.S.
FOR MORE INFORMATION, INTERVIEWS WITH CARL SAFINA & IMAGES TAKEN ON THE EXPEDITION, Contact:
Linda Shockley: media@blueocean.org; 917-521-0711; 646-796-4041
Jesse Bruschini: jbruschini@blueocean.org; 845-518-4809
TO LEARN MORE:
www.anchoragemuseum.org/gyre
www.ExpeditionGYRE.com; @expeditiongyre
IMAGES AVAILABLE TO MEDIA FOR DOWNLOAD: http://www.anchoragemuseum.org/media/Login.aspx
OVERVIEW
The Gyre project, a collaboration between the Anchorage Museum and the Alaska SeaLife Center, addresses the problem of marine debris through a 2013 scientific expedition and a 2014 contemporary art exhibition. In summer 2013, an international team of artists, scientists and educators will travel the Alaska coastline to observe, document and collect marine debris. In February 2014, a 7,500-square-foot exhibition at the Anchorage Museum will tell a global marine debris story through the work of more than 20 artists.
ANCHORAGE MUSEUM
The Anchorage Museum is the largest museum in Alaska and one of the top 10 most visited attractions in the state. The museum's mission is to share and connect Alaska with the world through art, history and science.
ALASKA SEALIFE CENTER
The Alaska SeaLife Center in Seward is a private, nonprofit marine science facility dedicated to generating and sharing scientific knowledge to promote understanding and stewardship of Alaska's marine ecosystems.
BLUE OCEAN INSTITUTE
Blue Ocean Institute inspires a deeper connection with nature by creating an original blend of science, art, and literature. Our solution-oriented books, films, and programs instill hope and help restore living abundance to the sea. @blueoceaninst; @carlsafina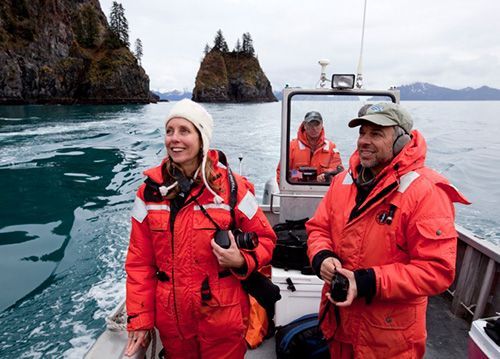 Artist Pam Longobardi, scientist John Maniscalco and scientist Carl Safina on a Gyre planning trip in Resurrection Bay, Alaska, 2011. All are part of the Gyre expedition that will launch on June 7, 2013. Image credit: Kip Evans.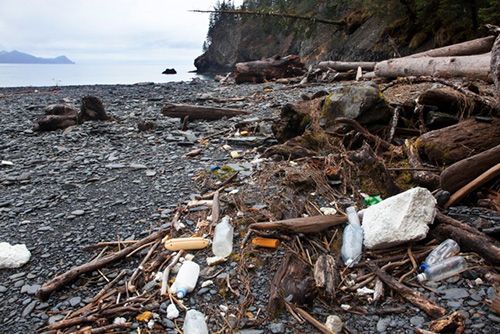 Marine debris in Bulldog Cove on the western shore of Resurrection Bay, Alaska, 2011. Accumulation of assorted plastic debris including Styrofoam, liquid containers and high seas driftnet floats. Image credit: Kip Evans.


Contact Info: Linda Shockley: media@blueocean.org; 917-521-0711; 646-796-4041
Jesse Bruschini: jbruschini@blueocean.org; 845-518-4809
Website : Blue Ocean Institute