BROOKLYN HOME RAVAGED BY SANDY IS HELPED BY ROBIN HOOD RELIEF FUND GRANT TO COMMUNITY ENVIRONMENTAL CENTER
New York, NY – Stella S. remembers when the ocean invaded her home in Sea Gate, in Coney Island, Brooklyn.
"My basement was totally destroyed," she said during a recent telephone interview. "Five feet of water. You can still see the water line. It was very scary."
It has taken 7 months, but Stella's basement has finally been repaired, largely with the assistance of a grant that the Robin Hood Relief Fundmade to the nonprofit Community Environmental Center (CEC). Rapid Repair provided a new boiler and a new water heater, says Stella, who for most of those seven months could not live in the house she and her late husband had bought 25 years earlier. She rented a place at the home of a friend.
Since Hurricane Sandy struck in October 2012, Robin Hood has made more than $71 million in grants to nearly 400 organizations in the tri-state area, including $100,000 to Community Environmental Center (CEC) to help repair 20 homes damaged by Sandy.
"When we first saw the house, the mold that the water saturation produced had finally been removed," said Irving Jackson, one of the CEC crew members that worked on Stella's three-story home. "But due to the storm, this basement was unlivable. There were no studs along the walls, no sheetrock and in some cases no flooring – just earth.
Over the course of three days, the CEC crew installed studs, a plywood floor, insulation for all the external walls, and new sheetrock.
There is still work for Stella to do, in order to bring her house back to pre-Sandy condition, and she will never recover items such as her late husband's tools, which the ocean swept away. Before the flood, the basement contained a kitchen and two bathrooms. "This is just one big open space now," she says.
But, she says, "I am very appreciative of all the work CEC did. I have a wooden floor. I am happy." And then she adds, "I hope it will never happen again."
About the Robin Hood Hurricane Sandy Relief Fund: Founded in 1988, Robin Hood is New York's largest poverty-fighting organization, and has focused on finding, funding and creating programs and schools that generate meaningful results for families in New York's poorest neighborhoods. The Robin Hood Hurricane Sandy Relief Fund has granted tens of millions of dollars to organizations throughout New York's tri-state region that help individuals and families recover from the devastating effects of the storm. In addition, Robin Hood's board of directors pays all administrative, fundraising and evaluation costs, so 100% of your donation goes directly to organizations helping victims of Hurricane Sandy rebuild their lives.
About Community Environmental Center (CEC): CEC, a Queens-based nonprofit that recently won the EPA's prestigious 2013 Environmental Quality Award, brings energy efficiency to residential buildings and homes in the tri-state area. Founded by Richard Cherry in 1994, the company is the largest provider of weatherization under New York State's Weatherization Assistance Program (WAP). For more information, please visit www.CECenter.org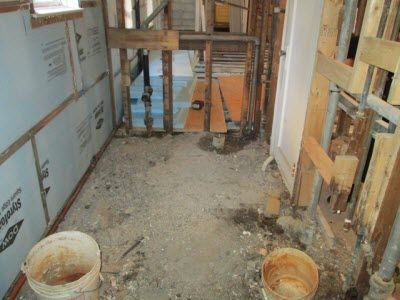 Before...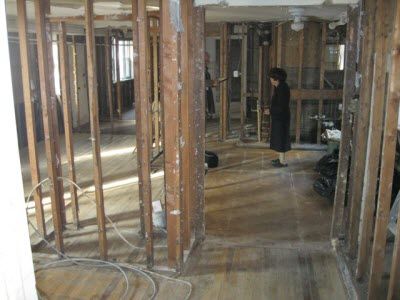 After, with flooring and studs
Courtesy Community Environmental Center

Contact Info:
Website : Community Environmental Center