Conserving our natural and cultural heritage in U.S. grasslands and savannas
Prairie Biotic Research, Inc. (PBR) is an all-volunteer, scientific, 501(c)(3) public charity founded in 2000. We are five board members and 11 scientific advisors — 16 field biologists keenly interested in biodiversity and its conservation, and in assisting others who share our interest in nature to find essential funding for their basic field research.
Over 12 years, PBR has funded 155 grants totaling $148,946 to researchers in 32 states in our annual, competitive Small Grants Program. Our 2013 grant cycle ended in March when we funded 20 of 97 proposals with $19,740. We fund research relating to all taxa; insects have won the most, followed by plants. This year we funded our first research on branchiopods and prairie stream fishes. Historically, more than half of these grants have supported graduate students. What makes this activity so urgent is that these habitats and the species that live there are vanishing. We are gathering information that may slow this terrible erosion of our natural heritage while fostering the development of these researchers, thereby sustaining our cultural heritage. PBR funds experimental research but we also fund natural history (observational research), which is very rarely funded today. To learn more about PBR and our Small Grants Program, please visit our website at www.prairiebioticresearch.org, where you can also peruse reports from the researchers whom we've supported.
Our Small Grants Program awards grants up to $1,000 to individuals for the study of any species in native or restored U.S. prairies or savannas. We favor independent researchers but any individual may apply, except our board members and scientific advisors who are ineligible for this funding. Our annual cycle begins in October with the announcement of this opportunity and checks are distributed to researchers in late March. To receive our email alert in October, send an email request to prairiebioticresearch@gmail.com.
Raising funds to support these grants each year is a struggle and we've never yet been able to fund as many of these proposals as we would like. People know what schools, land trusts, hospitals, symphonies, nature centers, churches and food banks do — these are all familiar charities in competition for limited charitable donations. But what Prairie Biotic Research does is unique and innovative. We fall outside these familiar charitable categories, which cripples our foundation fundraising efforts. We have accomplished all that we have on fewer than 50 donations each year.
We foster curiosity! Please help us to accomplish more by making a small gift. We'll pass along 100% of your gift to researchers in our 2014 Small Grants Program. Write a check to Prairie Biotic Research, Inc. and mail it to PO Box 5424, Madison, WI 53705. Please write "ENN" on the memo line of your check. You can also help by publicizing our organization to others!
Thank you!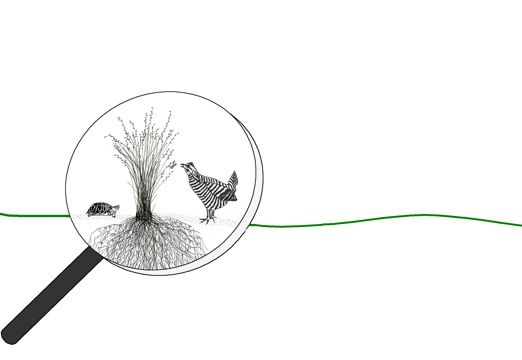 Contact Info: IRS EIN 39-2008653
WI Charitable Organization #7327-800
Andrew H. Williams, President
Prairie Biotic Research, Inc.
PO Box 5424
Madison, WI 53705
prairiebioticresearch@gmail.com
515-232-9381

Website : Prairie Biotic Research, Inc.