ELECTED OFFICIALS AND THE NATIONAL GRID FOUNDATION CELEBRATE THE ECOHOUSE AT QUEENS BOTANICAL GARDEN
Assemblyman Ron Kim, Assemblywoman Nily Rozic and NYC Councilman Peter Koo join the National Grid Foundation at Queens Botanical Garden to cheer on the Community Environmental Center's EcoHouse
Queens, NY -- Elected officials, representatives of the National Grid Foundation and environmentalists of all ages gathered at Queens Botanical Garden (QBG) on a brutally hot Wednesday morning, July 17, to cheer on the Community Environmental Center's EcoHouse. This mobile environmental education exhibit will be in residence at QBG through August 30.
Designed and built by the nonprofit, Queens-based Community Environmental Center (CEC), the EcoHouse resembles a red-brick house on wheels on the outside. Inside, it offers up interactive displays for achieving sustainability in one's house or apartment, including a display of energy-efficient light fixtures, a walk-in shower that demonstrates the impact of conserving water and energy-efficient heating systems.
Bob Teetz, Vice President, Environmental Services at National Grid and Grant Review Committee Member for the National Grid Foundation, praised the "pioneering" Community Environmental Center and its CEO, Richard Cherry, for the EcoHouse and lauded Queens Botanical Garden and its Executive Director, Susan Lacerte, for hosting it.
Teetz added, "We are delighted to be a sponsor of the exhibit, which will reach out to young folks and home owners and renters throughout New York City. When you think about the unrelenting hot weather, and the storms through which we have suffered, it is incumbent upon us all to think about what we can do to make our homes more energy efficient and environmentally sustainable."
New York State Assemblyman Ron Kim, Assemblywoman Nily Rozic and New York City Councilman Peter Koo concurred. Addressing the crowd, which included members of the QBG Tai-Chi Group and the NYC Summer Employment Program, Kim said, "When Sandy hit, we saw people suffering every day. When it comes to the environment, we can't afford to be passive. We have to be pro-active."
The Community Environmental EcoHouse is located in the QBG Parking Garden, at 42-80 Crommelin Street in Flushing, near College Point Blvd. The EcoHouse will be open during the same hours as the Garden, Tuesday-Sunday, 8am- 6pm. Both the Garden and the EcoHouse are wheelchair accessible.
Admission to the Garden is $4 for adults, $3 for people 62 and over and $2 for students with ID and children ages 3-12. Free for QBG members. Admission to the Garden is free for all on Wednesdays 3 PM – 6 PM, and Sundays 4 PM to 6 PM. For more information about the Garden: 718-886-3800 and www.queensbotanical.org and for information about group tours of the EcoHouse: 718-784-1444, ext. 181 or kgloede@CECenter.org
About Community Environmental Center (CEC): CEC, a Queens-based nonprofit that recently won the EPA's prestigious 2013 Environmental Quality Award, brings energy efficiency to residential buildings and homes in the tri-state area. Founded by Richard Cherry in 1994, the company is the largest provider of weatherization under New York State's Weatherization Assistance Program (WAP). For more information, please visit www.CECenter.org and www.CECenter.org/ecohouse or call 718-784-1444.
About the National Grid Foundation: The National Grid Foundation was created to enhance the quality of life in areas where National Grid provides services. The Foundation's ongoing challenge is to create opportunities for solutions to educational and environmental issues. Its objective is based on the principle that giving people the tools to build hope is an essential ingredient in the development of individuals, families and communities. Since its inception in December 1998, the Foundation has provided more than $16 million in grants to hundreds of organizations.
Queens Botanical Garden is an urban oasis where people, plants and cultures are celebrated through inspiring gardens, innovative educational programs and demonstrations of environmental stewardship. Located at 43-50 Main Street in Flushing, Queens Botanical Garden is easily accessible by car, train, or bus. For travel directions and more information visit www.queensbotanical.org or call (718) 886-3800. Queens Botanical Garden is located on property owned by the City of New York and its operation is made possible in part by public funds provided through the New York City Department of Cultural Affairs.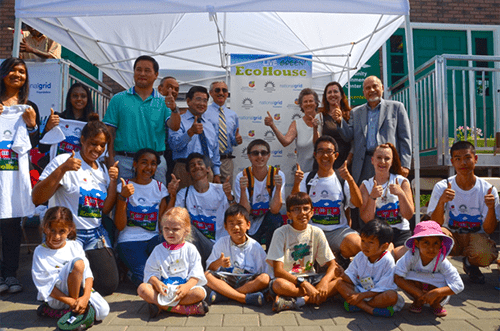 Thumbs up for the Community Environmental Center's EcoHouse at Queens Botanical Garden: Top Row, L to R: Assemblyman Ron Kim; NYC Councilman Peter Koo; Bob Teetz of the National Grid Foundation; Susan Lacerte, Executive Director, QBG; Assemblywoman Nily Rozic; and Richard Cherry, President, the Community Environmental Center. 2nd Row: Members of the NYC Summer Youth Employment Program. 3rd Row: Members of the HSBC Children's Garden Group.
Photo: Peter Sylvester
Contact Info:
Website : Community Environmental Center