The EcoHouse to be hosted at Glen Oaks Campus in Queens by Neighborhood Housing Services of Jamaica
The Community Environmental Center EcoHouse, a free, traveling, environmental education center, will be hosted by Neighborhood Housing Services of Jamaica (NHSJ) at Queens PS/IS 266 on the Glen Oaks Campus
Queens, NY -- Sept. 12, 2013 -- The Community Environmental Center EcoHouse, a free, mobile sustainability exhibit and environmental education center, will be hosted by Neighborhood Housing Services of Jamaica (NHSJ) from September 19 through October 31 at PS/IS 266, 74-10 Commonwealth Boulevard, on the Glen Oaks Campus in Queens.
The EcoHouse will be providing tours for PS/IS 266 and other school groups Monday througho Friday, 9 AM to 3 PM, and for the general public Monday through Friday, 3 PM to 5 PM. All tours are free of charge, and the EcoHouse is wheelchair accessible. Please check the EcoHouse website www.cecenter.org/ecohouse for additional information, and to confirm dates and times.
"We are honored that Neighborhood Housing Services of Jamaica is hosting the EcoHouse on this terrific campus," said Katherine Gloede, the EcoHouse Project Manager. "The EcoHouse is a great, fun way to learn how we can all reduce our impact on the environment by saving energy in our homes and apartments. It is an excellent and accessible way to learn about one of the most important issues of our time."
"NHSJ is pleased to partner with Community Environmental Center to bring the EcoHouse to Queens, "said Tayyaab Buksh, NHSJ Director of Development & Construction Services. "This interactive education tool will allow people of all ages to understand energy-saving principles and use those practices in their own homes."
The EcoHouse will offer special festivities on September 28 in honor of Climate Week NYC 2013. Groups and programs joining the EcoHouse Climate Week celebration will be SpinGreen, a NYC woman-owned clothing company; 511NYRideShare, a free service of the New York State Department of Transportation; and Neighborhood Housing Services of Jamaica .
Community Environmental Center (CEC) designed and built the 46-foot-long EcoHouse in 2012 and has taken it to schools, parks and other public sites in all five boroughs, attracting more than 7,000 visitors in less than a year.
Resembling a red-brick house on wheels, the EcoHouse contains displays about almost everything that makes a household run, including a heating system, lighting, insulation, and Energy Star appliances. A shower display demonstrates how much water a traditional showerhead uses, and how much a low-flow showerhead saves. A light display calculates and compares the amount of electricity used by energy-efficient bulbs and an incandescent bulb.
Beginning in January 2014, the EcoHouse will be hosted by the New York Hall of Science in Queens.
Major supporters of the EcoHouse include NYSERDA (New York State Energy Research and Development Authority), the National Grid Foundation and A.S.K. Construction.
About Community Environmental Center: CEC, a Queens-based not-for-profit that recently won the EPA's prestigious 2013 Environmental Quality Award, brings energy efficiency to residential buildings and homes in the tri-state area. Founded by Richard Cherry in 1994, the company is the largest provider of weatherization under New York State's Weatherization Assistance Program (WAP). For more information about the EcoHouse, please call 718-784-1444, ext. 181, or visit www.CECenter.org and www.CECenter.org/ecohouse.
About Neighborhood Housing Services of Jamaica: NHSJ is a HUD-Certified, non-profit organization committed to preserving, protecting, revitalizing and stabilizing neighborhoods in Southeast Queens by offering homeownership education, pre-and post-purchase housing counseling, technical and financial assistance to low– and moderate-income families. NHSJ goals are to create strong neighborhoods through homeownership stabilization and retention. Enhance awareness of affordable mortgage products and services. Increase the number of educated consumers on affordable financial services. Provide access to products and services offered by our lending partners. Address community needs through creation of products and services. Empower residents to become strong community leaders. Since 1974, NHSJ vision is to promote safe and healthy communities that are affordable to working and middle class families. Contact: 89-70 162nd St, Jamaica, NY, 11432, (718) 291- 7400 or visit www.nhsj.org.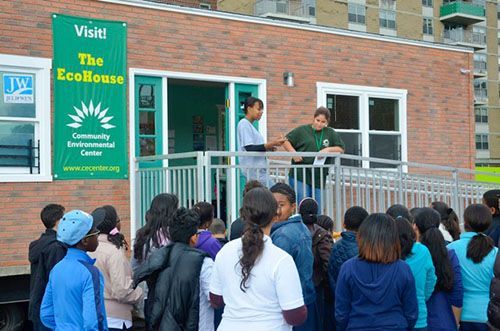 Contact Info: For more information about the EcoHouse, please call 718-784-1444, ext. 181, or visit www.CECenter.org and www.CECenter.org/ecohouse.
Website : Community Environmental Center