Southface presents 2013 Argon Award for Leadership in Sustainability to The Kendeda Fund
Atlanta, GA – October 2, 2013 – Southface, the Southeast's nonprofit leader in the promotion of sustainable homes, workplaces and communities, presented its 2013 Argon Award for unique achievement and leadership in sustainability to The Kendeda Fund.
The Kendeda Fund grew from a donor's desire to make the planet a better place for nature and mankind alike. The goal of The Kendeda Fund is to spread the word of sustainable and efficient practices, through various channels, including pulpit-based messaging, community involvement and higher education arenas. It has contributed over $400 million to a variety of organizations that promote sustainability, social equity, human achievement and a number of related endeavors.
The Kendeda Fund has been an eco-pioneer in Atlanta, funding projects and programs that will expand the audience and promote the advocacy of sustainability. Locally, The Kendeda Fund supports many environmental initiatives, including: Trees Atlanta, Park Pride, Chattahoochee Riverkeeper, Chattahoochee Nature Center, The Atlanta BeltLine, The Nature Conservancy, Piedmont Park Conservancy, Trust for Public Land, Southface, The Atlanta Botanical Garden and many others. The Fund also helped launch two up-and-coming environmental programs: Sustainable Atlanta's new web portal, lookupatl.org and the Grants to Green program of The Community Foundation for Greater Atlanta.
Barry Berlin, managing director for Atlantic Trust Company, accepted the Argon Award on behalf of The Kendeda Fund as its longtime advisor and facilitator.
Visionary Dinner
The award was presented on September 25 during Southface's annual Visionary Dinner at the Fox Theatre in Atlanta. Now in its 15th year, the annual Visionary Dinner raises awareness and funding for Southface's continued work in sustainable community development, high-performance affordable housing, green jobs training, clean energy and green building.
Keynote speaker Bridgett Luther, president of the Cradle to Cradle Products Innovation Institute, leads the administration of the Cradle to Cradle Certified Products Program and advocacy of its adoption by designers, manufacturers, major brands, and their suppliers worldwide.
Attended by more than 400 sustainability and business professionals, this year's five-course, wine-paired dinner was prepared by six acclaimed Atlanta chefs using locally sourced ingredients provide by Whole Foods Market.
About Southface
Southface is the Southeast's nonprofit leader in the promotion of sustainable homes, workplaces and communities through education, research, advocacy and technical assistance. Learn more at www.southface.org.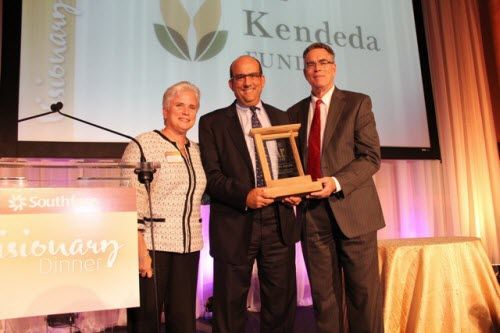 Contact Info: Helen Talley-McRae
Email: htalleymcrae@southface.org
Tel: 404-604-3625

Website : Southface