Mitigation Banker Significantly Increases Its Banking Credits
CAMDEN, SC, ISSUED NOVEMBER 12, 2013…EBX is pleased to announce that it has obtained approval of four new mitigation banks and, as a result, has significantly expanded and diversified its existing portfolio of 41 mitigation bank projects. These banks will generate four different types of credits – wetland, stream, nutrient and endangered species. The new inventory shows the breadth of EBX's expertise in the marketplace and demonstrates a testament to the versatility of EBX's staff in its regional offices. In total, the banks will produce wetland credits in South Carolina; stream credits in West Virginia; phosphorus and nitrogen credits in Virginia; and golden-cheeked warbler credits in Texas.
The Banks include: the Waccamaw Wetland Mitigation Bank in South Carolina; the Davis Branch Stream Bank in West Virginia; the Elk Run Nutrient Bank in Virginia; and the Festina Lente Golden-Cheeked Warbler Bank in Texas.
The Waccamaw Wetland Mitigation Bank is a groundbreaking 754 acre wetland conservation and restoration initiative with EBX acquiring the largest in-holding within the Lewis Ocean Bay Heritage Preserve and subsequently donating the property to the Preserve.
The Davis Branch Stream Bank was approved under EBX's West Virginia's Wetland and Stream Umbrella Mitigation Bank. EBX obtained approval of its Umbrella Bank in 2007 and has been adding sites to the Bank since that time. The Davis Branch Bank site is located on approximately 450 acres of forest and pasture land in Raleigh County, West Virginia. It will consist of 21,463 linear feet of stream restoration, enhancement and preservation and will yield 5,325 stream credits under the applicable West Virginia standards.
The Elk Run Nutrient Bank is located on a 708 acre farm in Fauquier County, Virginia and involves the conversion of 135 acres of cropland to forest and will produce 1,479.83 pounds of nitrogen and 110 pounds of phosphorous credits. It is located in the Potomac River Basin of Virginia and the nutrient credits will be available for sale to meet Virginia's commitment to reduce nutrient load reductions in the Chesapeake Bay.
The final approved Bank involves the Festina Lente Golden-Cheeked Warbler Bank in Texas. It is located on some 1,200 acres of land in Bandera County, Texas. It is adjacent to Lost Maples State Park and is in the heart of the conservation corridor for the Golden-Cheeked Warbler. The Bank will yield 1,131 credits and will be available for projects within the San Antonio / Austin region to meet endangered species permitting obligations.
Mitigation and Conservation Banks and Nutrient Offsets provide an effective means for timely permit approval while eliminating the long-term liability of permit applicants. EBX's credits are currently available for reservation. - Please contact EBX's Sales Manager, Matt Fisher, for more information at 888-781-7075.
Mitigation banking is the restoration, creation, enhancement, or preservation of a wetland, stream, or habitat conservation area which offsets expected adverse impacts to similar nearby ecosystems. The goal is to replace the exact function and value of the specific wetland habitats that would be adversely affected by a proposed project.
EBX is America's leading turn-key environmental mitigation provider for the loss of aquatic resources due to unavoidable impacts, with over 90 mitigation sites across the Southeast and Mid-Atlantic regions. These projects have restored and protected over 124 miles of stream, 12,839 acres of wetlands and 5,866 acres of habitat critical to the protection of at-risk species.
EBX develops five primary types of mitigation credits to satisfy specific regulatory offset requirements; stream credits, wetland credits, endangered species credits, nutrient reduction credits, and riparian buffer credits.
EBX has 5 offices along the East Coast in Camden, SC, Charlotte and Raleigh, NC, Oak Hill, WV and Baltimore, MD.
You can find more information about EBX at www.ebxusa.com.
For further information contact Matt Fisher matt@ebxusa.com.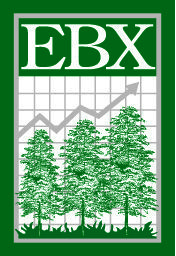 Contact Info: Matt Fisher, EBX, 888-781-7075, matt@ebxusa.com
Website : EBX