NEW BOOK EXPLAINS HOW TO SECURE SPONSORS FOR ENVIRONMENTAL CAUSE-RELATED EXPEDITIONS
Get Sponsored: A Funding Guide for Explorers, Adventurers and Would-Be World Travelers
STAMFORD, Conn. (Feb. 12, 2014) – Hundreds of explorers and adventurers raise money each month to travel on world class expeditions to Mt. Everest, Nepal, the Amazon and Antarctica, many of which are designed to benefit environmental causes. Now the techniques they use to pay for their projects are available to anyone who has a dream environmental project in mind, according to the new book from Skyhorse Publishing called: "Get Sponsored: A Funding Guide for Explorers, Adventurers and Would Be World Travelers."
Author Jeff Blumenfeld, an adventure marketing specialist who has represented 3M, Coleman, Du Pont, Lands' End and Orvis, among others, shares techniques for securing sponsors for cause-related expeditions and adventures.
Editor of ExpeditionNews.com and Fellow of both The Explorers Club and Royal Geographical Society, Blumenfeld has been involved in some of the most iconic expeditions of the past 40 years. Dogsled expeditions to the North Pole, across Antarctica, through the Bering Strait and an epic 1,152-mile solo sea voyage have all benefited from his expertise.
"Is it easy to get someone to pay for your dream trip? No, not at all," he says. "But with the right idea and proper advance preparation, it is possible to raise thousands of dollars in cash and in-kind products and services for worthy cause-related projects."
One chapter of the book explains where there are thousands of dollars available in grants from sponsors such as W.L. Gore & Associates, Land Rover, National Geographic, Polartec, and Rolex.
Get Sponsored shares advice based upon a 40-year adventure marketing career spent linking corporations with adventurers and explorers. Blumenfeld's book covers polar explorer Will Steger whose foundation focuses on climate change, polar educator Geoff Green of Students on Ice, and Briton Andy Pag who traveled the world powered by waste vegetable oil.
Get Sponsored is the only book that not only goes behind-the-scenes of some of the most historic and modern-day adventures, but also provides advice on how individuals can plan and fund their own cause-related projects.
Blumenfeld's book turns to experts to explain how to negotiate sponsorships, provides advice from a professional photographer about how to take photos that will thrill sponsors and encourage them to participate in the next adventure, and lists guide services and adventure schools ready to help aspiring adventurers obtain the outdoor skills they'll need to convince sponsors they have what it takes.
Jeff Blumenfeld is editor and publisher of Expedition News, an insider's guide to the business of adventure marketing. He runs Blumenfeld and Associates, Inc., a successful public relations firm in Stamford, Connecticut that specializes in travel, racing, and outdoor-related clients. For more information, please visit www.blumenfeldpr.com.
Published by Skyhorse Publishing, Get Sponsored is available in paperback for $14.95 from Amazon and Barnes & Noble.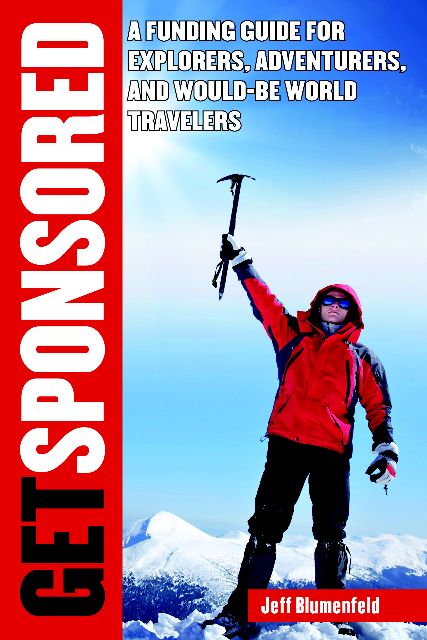 Contact Info: Jamie Gribbon
Blumenfeld and Assoc. PR
203 655 1600; Jamie@blumenfeldpr.com

Website : Blumenfeld and Associates, Inc.