GoSun Grill Solar Cooker Eliminates Emissions and Need for Any Fuel
Heavy-Duty Solar Oven Launches on Kickstarter
CINCINATTI, Ohio April 21, 2015 – Just in time for Earth Day 2015, GoSun Stove is launching a crowd funding campaign for a smoke-free solar barbecue nearly three times the size of its portable model. Halfway to its funding goal one day into launch, the GoSun Grill is taking pre-orders on Kickstarter.com.
The GoSun Grill is the perfect solar cooker for tailgating without the need for fuel, just sunlight. According to the World Health Organization (WHO) 3 billion people world wide cook with dirty fuel sources, and over 4 million people die prematurely due to air pollution from cooking with solid fuels. Charcoal briquettes or propane produce hydrocarbons and tiny particles of soot that pollute the air, your food and even cause cancer according to the American Institute for Cancer Research. That hearty, blackened, wood-smoked meat tastes good, but unfortunately produces carcinogenic compounds and unhealthy particulate matter. The Canadian government requires charcoal to display a warning label similar to cigarettes, and the EPA has recently contracted UC Irvine to research methods to cut back propane barbeque emissions.
GoSun's new grill eliminates the need for fire and fuel - the only thing that heats the food is the sun itself. Big enough to fit two whole chickens, this breakthrough design reaches hundreds of degrees in moments, even on a cloudy day, cooking up an entire family meal in as little as 20 minutes. Aluminum reflectors focus sunlight into an evacuated tubular glass oven, capturing the heat inside. Lightweight and easy to use, this new model even includes a breakthrough thermal battery to keep food cooking at night.
Impress your tailgate buddies with a solar cooker that is heart-friendly and earth friendly. Pre-order on Kickstarter, or purchase and see the GoSun Sport in the San Francisco Bay Area at Ship's Store, 100 Bay Street, Sausalito. For a demonstration call (415) 339-1300. Learn more about the GoSun Stove at http://www.gosunstove.com.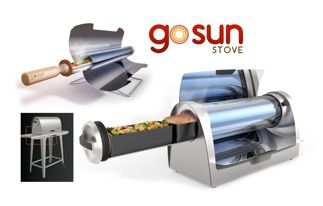 Contact Info: (415) 339-1300
Website : GoSun Stove