Soy Biobased Lands at Kennedy Space Center Earth Day
Kennedy Space Center, FL – Soybeans, satellite technology and sustainability connect at NASA/Kennedy Space Center Visitor Complex (KSC) Earth Day tomorrow. The United Soybean Board (USB) is sharing how U.S. farmers use science and satellites to grow a sustainable crop that is a rapidly renewable source for food, feed, biodiesel and diverse biobased products.
KSC's annual Earth Day attracts approximately 5000 employees and guests to the unique facility located on a federal wildlife reserve. USB is pleased to partner with NASA/KSC to add soy and biobased. For the first time, USB, the National Biodiesel Board and biobased manufacturers are exhibitors. USB Customer Focus Action Team Chair John Dodson is a keynote speaker.
"GPS satellite technology is one of the many tools that U.S. soybean growers use to farm with precision," Dodson said. "Innovation and agriculture grow together. We continuously improve the sustainability of our farming practices and the many products made from U.S. soybeans.
"To shrink their environmental footprint, companies use soy as an ingredient in their products, ranging from carpet backing and turf to paints, furniture and car seats," Dodson said. "USB and these companies are helping the environment, rewriting America's petroleum-laden history and creating U.S. jobs."

Often called the "miracle bean," a peer-reviewed life cycle analysis supports that U.S. soybeans can collectively remove from the atmosphere the carbon equivalent of taking 22 million cars off the road in just one year. Each year, nearly 600,000 independent U.S. farmers plant, grow, and harvest trillions of soybeans. This video tells the story.
Also speaking at the KSC Earth Day is the U.S. Department of Agriculture Director of the National Institute for Food and Agriculture Sonny Ramaswamy. Giving a real-world biobased success presentation is Medford Township New Jersey Schools Director of Operations and Technology Joe Biluck. He describes the school's 17 years of success with biodiesel that has expanded to include 15 different products, including being the first in the nation to install the soy-backed Yellowstone Collection carpet.
USB and biobased manufacturers are also joining KSC's April 23 Sustainability Symposium.
NASA/KSC's sustainability plan includes the use of biobased products. Staffs have worked to use products as part of the USDA's BioPreferred® Program that currently includes 97 BioPreferred-designated product categories required for preferred federal purchasing. The USDA website provides voluntary biobased product certification and labeling information.
America is evolving past decades of dependence on foreign oil and petrochemicals into more renewable, sustainable options. Made from natural resources grown in America, biobased products offer a choice. USB's biobased products website offers detailed information about hundreds of soy-based products that are available today.
Because of the potential for biobased products to create new markets for soybeans, U.S. soybean farmers have invested millions of dollars to research, test and promote biobased products. Much of this work was done through the United Soybean Board, which is composed of 70 U.S. soybean farmers appointed by the U.S. Secretary of Agriculture to invest soybean checkoff funds. As stipulated in the Soybean Promotion, Research and Consumer Information Act, USDA's Agricultural Marketing Services has oversight responsibilities for the soybean checkoff.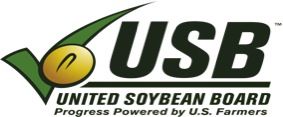 Contact Info: Melissa Narins, 703-780-0880
Website : United Soybean Board