A BREATHTAKING JOURNEY INTO THE LIVES AND MINDS OF ANIMALS
BEYOND WORDS: What Animals Think and Feel
by Carl Safina
Prize-winning author and MacArthur Fellow Carl Safina weaves decades of field observations with exciting new discoveries in brain science that delivers enlightening insight into animal cognition in his landmark new book BEYOND WORDS: What Animals Think and Feel (Henry Holt/A John Macrae Book; on sale: July 14, 2015).
In BEYOND WORDS, readers witness elephant families navigate the pervasive drought and incidents of poaching in Kenya's Amboseli National Park, see a free-living wolf pack sort out the aftermath of tragedy in Yellowstone National Park and finally plunge into an astonishingly peaceful society of killer whales living in the waters of the Pacific Northwest. These animals are treated as the individual characters they are, with distinct personalities and unique roles within social structures not unlike our own. Taking us into the animals' lives and minds, Safina reports on the surprising similarities between our minds and theirs while thoughtfully tackling issues that affect us all, including habitat conservation and extinction.
BEYOND WORDS offers powerful and illuminating insight into the unique personalities of animals through extraordinary stories of animal joy, grief, jealousy, anger and love. Ultimately a graceful examination of humanity's place in the world, Safina calls on us to re-evaluate our relationship to the other species around us.
ABOUT THE AUTHOR
Carl Safina is author of seven books, including Song for the Blue Ocean, which was a New York Times Notable Book of the Year, Eye of the Albatross, Voyage of the Turtle, and The View From Lazy Point. Safina is founding president of The Safina Center at Stony Brook University, where he also co-chairs the University's Alan Alda Center for Communicating Science. A winner of the 2012 Orion Award and a MacArthur Prize, among others, his work has been featured in outlets such as The New York Times, National Geographic, CNN.com and The Huffington Post, and he hosts "Saving the Ocean" on PBS.
Advance Praise for Beyond Words
"Captivating...A profound, scientifically based appeal for recognition of the kinship of all living
things."—Kirkus Reviews, *STARRED REVIEW*
"In this mind-bending book, Safina takes the reader along with him on his adventures, enlightening and educating at each of his stops."—Publishers Weekly
"Well-researched...fascinating and thought-provoking."—Library Journal
"A beautifully written, provocative case for seeing animals through their eyes." —Discover Magazine
"Carl Safina shows there is indeed intelligent life in the universe, and it's all around us. At once moving and surprising, Beyond Words asks us to reexamine our relationship to other species—and to ourselves."—Elizabeth Kolbert, Pulitzer Prize winning author of The Sixth Extinction
"This book breathes love of and respect for animals and is rich with observations and extraordinary travel experiences. It is a delightful and enlightening account of both how we relate to them and how they relate to each other."—Frans de Waal, author of The Bonobo and the Atheist
Full Press Kit available here: http://bit.ly/Beyond-Words-Release
Also available as an e-book.
www.carlsafina.org
ON SALE: July 14, 2015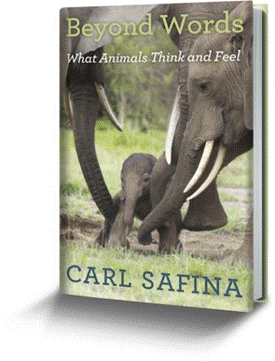 Contact Info: Megan Smith, msmith@safinacenter.org or
Caroline Nitz, Henry Holt & Co., 612-867-1809 Caroline.Nitz@gmail.com
Website : www.carlsafina.org