NEW SCIENTIFIC STUDY FINDS CORAL REEFS UNDER ATTACK FROM CHEMICAL IN SUNSCREEN AS GLOBAL BLEACHING EVENT HITS
A new study published today in the journal Archives of Environmental Contamination and Toxicology has found that a chemical widely used in personal care products such as sunscreen, poses an ecological threat to corals and coral reefs and threatens their existence.
Oxybenzone (also known as BP-3; Benzophenone-3) is found in over 3,500 sunscreen products worldwide, and pollutes coral reefs from swimmers wearing sunscreens and through wastewater discharges from municipal sewage outfalls and from coastal septic systems.
The study comes less than two weeks after NOAA declared the third ever global coral bleaching event and warned that locally produced threats to coral, such as pollution, stress the health of corals and decrease the likelihood that they will resist bleaching, or recover from it.
Toxicopathological effects of the sunscreen UV filter, oxybenzone on coral planulaedemonstrates that exposure of coral planulae (baby coral) to oxybenzone, produces gross morphological deformities, damages their DNA, and, most alarmingly, acts as an endocrine disruptor. The latter causes the coral to encase itself in its own skeleton leading to death.
These effects were observed as low as 62 parts per trillion, the equivalent to a drop of water in six and a half Olympic-sized swimming pools
Measurements of oxybenzone in seawater within coral reefs in Hawaii and the U.S. Virgin Islands found concentrations ranging from 800 parts per trillion to 1.4 parts per million. This is over 12 times higher than the concentrations necessary to impact on coral.
A team of marine scientists from Virginia, Florida, Israel, the National Aquarium (US) and the US National Oceanic & Atmospheric Administration, undertook the study. Lead author Dr. Craig Downs of Haereticus Environmental Laboratory Virginia, said, "The use of oxybenzone-containing products needs to be seriously deliberated in islands and areas where coral reef conservation is a critical issue. We have lost at least 80% of the coral reefs in the Caribbean. Any small effort to reduce oxybenzone pollution could mean that a coral reef survives a long, hot summer, or that a degraded area recovers. Everyone wants to build coral nurseries for reef restoration, but this will achieve little if the factors that originally killed off the reef remain or intensify in the environment."
The study found that oxybenzone is a photo-toxicant with adverse impacts exacerbated in light but even in darkness, planulae were transformed from a motile (mobile) state to a deformed, sessile (immobile) condition and exhibited an increasing rate of coral bleaching in response to increasing concentrations of oxybenzone. This is particularly relevant for areas facing mass bleaching events including Hawaii.
Between 6,000 and 14,000 tons of sunscreen lotion are emitted into coral reef areas each year, much of which contains between one and 10% oxybenzone. The authors estimate that this puts at least 10% of global reefs at risk of high exposure, based on reef distribution in coastal tourist areas.
This study is one of less than two-dozen scientific studies that closely examine the impact of personal care product ingredients on marine organisms and habitats. According to MarineSafe, a campaign concerned with the impact of these products on ocean health, there may be as many as 82,000 chemicals polluting our marine environments, just from personal care use.
Professor Alex Rogers of the International Programme on the State of the Ocean at Oxford University, which established MarineSafe said, "Far too little attention is paid to the chemicals entering the ocean and their destructive impact. We need better understanding, testing and management to ensure that we are not eroding vital ocean resilience through the careless use of marine-toxic ingredients." IPSO's 2012 State of the Ocean report called for action to "prevent, reduce and strictly control inputs of substances that are harmful or toxic to marine organisms into the marine environment" recognizing its critical role in eroding the resilience of the ocean to the impacts of climate change.
Since the 1970s, coral reefs have been devastated on a global scale. Regional weather and climate events are often the cause of wide-scale mortality but the long-term causative processes of sustained demise are often locality specific and increasingly thought to be linked to pollution.
Oxybenzone is found in a range of products from lipstick and mascara to sunscreen and shampoo, it acts as a barrier to UV light, a task for which other ingredients are available. It has already been identified as a threat to human health. The European Union's International Chemical Secretariat has listed oxybenzone on its "Substitute It Now" list of substances that should be replaced and meets the criteria for "Substances of Very High Concern."
Executive Director Pat Lindquist of the Napili Bay and Beach Foundation of Maui, Hawaii said, "This study raises our awareness of a seldom realized threat to the health of our reef life at Napili Bay: chemicals in the sunscreen products visitors and residents wear are toxic to young corals. As our mission is to protect and improve the health of our popular bay and beach, we appreciate scientific input regarding threats to that health. This knowledge is critical to us as we consider actions to mitigate threats or improve on current practices. We hope to promote more use of sun-protective swimwear which will benefit our reefs and bay, and have plans to investigate best options in the coming year."
Notes to Editors
The e-version of the study will be published on October 20th 2015 and will be available from the Journal at (insert link). Journalists can access an embargoed copy here (insert link)
Toxicopathological effects of the sunscreen UV filter, oxybenzone (benzophenone-3), on coral planulae and cultured primary cells and its environmental contamination in Hawaii and the U.S. Virgin Islands.
MarineSafe is a project set up by IPSO to increase understanding about and reduce the use of marine-toxic ingredients in domestic products such as personal care products. (insert link).
Authors and experts available for interview are:
Dr Craig Downs – Haereticus Environmental Laboratories (US, English speaking)
Professor Alex Rogers – IPSO/Oxford University (UK, English speaking)
Professor John Fauth – University of Central Florida (US, English)
Dr. Omri Bronstein - Natural History Museum Vienna (EU, English and Hebrew)
Photos available on request
For further information please contact:
Patricia Roy patricia@communicationsinc.co.uk +34 696 905 907
Authors:
C.A. Downs1, Esti Kramarsky-Winter2,3, Roee Segal2, John Fauth4, Sean Knutson5, Omri Bronstein2, Frederic R. Ciner1, Rina Jeger 3, Yona Lichtenfeld 6, Cheryl M. Woodley7,8, Paul Pennington8, Kelli Cadenas9, Arial Kushmaro3, Yossi Loya2
1Haereticus Environmental Laboratory, Virginia, US
2Department of Zoology, George S. Wise Faculty of Life Sciences, Tel Aviv, Israel
3Avram and Stella Goldstein-Goren Department of Biotechnology Engineering and the National Institute for Biotechnology in the Negev, Ben-Gurion University of the Negev, Israel
4Department of Biology, University of Central Florida, Florida, US
5Pacific Biosciences Research Center, University of Hawaii, Honolulu US
6Department of Life Sciences, Ben-Gurion University of the Negev, Israel
7Hollings Marine Laboratory, US National Oceanic & Atmospheric Administration, Charleston, US
8Center for Coastal Environmental Health and Biomolecular Research, US National Oceanic & Atmospheric Administration, Charleston, US
9National Aquarium, Baltimore, Maryland US
ABSTRACT
Benzophenone-3 (BP-3; oxybenzone) is an ingredient in sunscreen lotions and personal-care products that protects against the damaging effects of ultraviolet light. Oxybenzone is an emerging contaminant of concern in marine environments; produced by swimmers and municipal, residential, and boat/ship wastewater discharges. We examined the effects of oxybenzone on the larval form (planula) of the coral Stylophora pistillata, as well as its toxicity in vitro to coral cells from this and six other coral species. Oxybenzone is a photo-toxicant; adverse effects are exacerbated in the light. Whether in darkness or light, oxybenzone transformed planulae from a motile state to a deformed, sessile condition. Planulae exhibited an increasing rate of coral bleaching in response to increasing concentrations of oxybenzone. Oxybenzone is a genotoxicant to corals, exhibiting a positive relationship between DNA-AP lesions and increasing oxybenzone concentrations. Oxybenzone is a skeletal endocrine disruptor; it induced ossification of the planula, encasing the entire planula in its own skeleton. The LC50 of planulae exposed to oxybenzone in the light for an 8 and 24 hour exposure was 3.1 mg/L and 139 μg/L, respectively. The LC50s for oxybenzone in darkness for the same time points were 16.8 mg/L and 779 μg/L. Deformity EC20 levels (24 hours) of planulae exposed to oxybenzone were 6.5 μg/L in the light and 10 μg/L in darkness. Coral cell LC50s (4 hours, in the light) for 7 different coral species ranges from 8 μg/L to 340 μg/L, while LC20s (4 hours, in the light) for the same species ranges from 0.062 μg/L to 8 μg/L. Environmental contamination of oxybenzone in the U.S. Virgin Islands ranged from 75 μg/L to 1.4 mg/L, while Hawaiian sites were contaminated between 0.8 μg/L and 19.2 μg/L. Oxybenzone poses a hazard to coral reef conservation, and threatens the resiliency of coral reefs to climate change.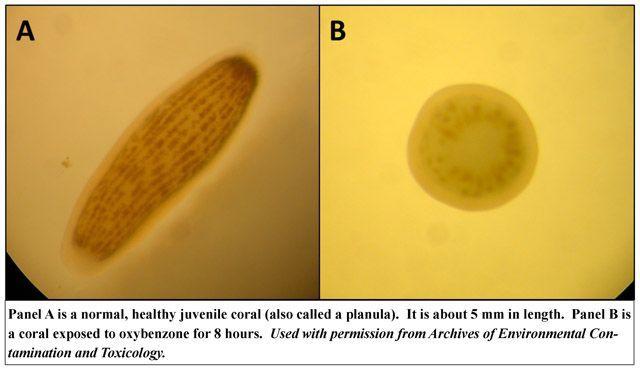 Contact Info: Patricia Roy
patricia@communicationsinc.co.uk +34 696 905 907
Website : Haereticus Environmental Laboratory