Recommended Links
Our Recommended Partner Sites showcases a collection of carefully selected environmental sites that we believe deserve special attention. These may be for profits or non-profits, government agencies or educational institutions. The common bond is that they all do a superior job at what they do.

If you feel that you deserve to be on this list or to learn more about how to become a Recommended Site Partner with ENN click here.

PARTNER OF THE MONTH: If you become a partner, we select a dynamic link to your organization featured on our home page.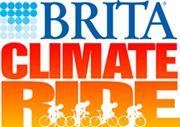 Brita Climate Ride 2009 is the first multi-day bicycle ride where your pedal strokes help raise money and awareness for meaningful climate change and renewable energy legislation! This transformative event is ideal for anyone who believes that change is possible and that America can take the lead in a green economy. ENN is a Media Sponsor of the Brita Climate Ride.

September 26—30th, 2009, the Climate Riders will pedal 300 miles from New York City to the nation's Capitol in Washington D.C. in five days.