EPA Authority to Regulate Greenhouse Gases Survives Another Challenge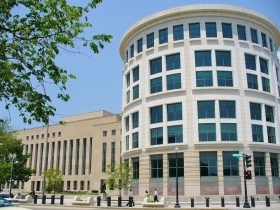 The U.S. Environmental Protection Agency's (EPA) efforts to regulate greenhouse gases have been under attack ever since the 2007 Massachusetts v. EPA Supreme Court ruling that confirmed its authority to do so. In 2010, just before efforts to pass a cap-and-trade climate bill were abandoned in the Senate, Republican Senator Lisa Murkowski sponsored failed legislation to nullify the Supreme Court decision and block EPA from moving forward with greenhouse gas regulations. Attempts to undermine EPA's regulatory authority were once again thwarted last month when the U.S. Court of Appeals for the District of Columbia Circuit rejected several legal challenges and upheld EPA's 2009 endangerment finding for greenhouse gases.
First, a bit of background to explain how EPA began regulating greenhouse gases. In 2003 under the Bush Administration, EPA determined that it lacked authority to regulate greenhouse gases, and that even if EPA did have this authority it would not set vehicle greenhouse gas emission standards. In response, Massachusetts led a coalition of 12 states and several cities and non-governmental organizations to sue EPA for failing to regulate greenhouse gases.
In 2007, the Supreme Court ruled in favor of Massachusetts, mandating that EPA determine whether greenhouse gas emissions "endanger public health or welfare." EPA released its endangerment finding in 2009, which determined that greenhouse gas emissions are harmful to both humans and the environment because they constitute the main driver of human-caused climate change. Based on the Supreme Court ruling, the endangerment finding legally required EPA to regulate greenhouse gas emissions from vehicles and stationary sources under the Clean Air Act. In order to avoid overwhelming permitting agencies with a huge new bureaucratic burden, EPA established a "tailoring rule" for greenhouse gas emissions from stationary sources so that initially only large industrial facilities will be required to obtain greenhouse gas emissions permits.
Since the endangerment finding, EPA has taken steps to act on this authority. In April 2010, EPA finalized greenhouse gas emission tailpipe standards for passenger cars and light trucks in conjunction with strengthened fuel economy standards. In March of this year, EPA further exercised its regulatory authority by proposing the country's first carbon dioxide (CO2) standards for new fossil fuel power plants, effectively banning future coal plants that do not include plans for carbon capture and storage technology.
Article continues at ENN affiliate, Worldwatch Institute
Image credit: www.cadc.uscourts.gov