Researchers Emphasize the Need to Monitor Rivers for Triclosan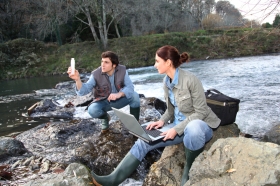 Ever heard of triclosan? As an antibacterial and antifungal agent, it is used in everything from toothpaste, to soaps, socks and trash bags. While the US Food and Drug Administration, the Environmental Protection Agency, and the European Union all regulate triclosan, the chemical is not monitored and often gets absorbed into sewage sludge after wastewater treatment.
Researchers from Germany and Slovakia are claiming that triclosan is harmful to the ecology of rivers and are calling for further monitoring of the chemical. After monitoring the Elbe river basin, concentrations of the chemical at various test sites were found to exceed the predicted no-effect concentration for algal communities. From the 500 river basin-specific pollutants investigated, triclosan ranked sixth as one of the most particularly harmful substances in Europe. According to an article published in the journal Environmental Science Pollution Research, scientists want to emphasize the importance for routine monitoring programs at the European scale.
Also, according to a recent study, triclosan may even enter agricultural fields through municipal irrigation water that may contain sewage sludge, or through manure. These contaminants then can make their way into cropped plants. Researchers studied the metabolism of triclosan and other chemicals after their uptake into carrot cell cultures and found that plant uptake of environmental contaminants may severely underestimate the extent of uptake into plants. This will eventually lead to potential human exposure to contaminants via food of plant origin.
The chemical triclosan is not one of these new candidates on the list of priority substances that are monitored by the European Union. This chemical has been on the market since 1972 and it was not until 1998 that the first serious effects were discovered. Scientists are also concerned that triclosan cannot only be detected in organisms living in wastewater but also in human plasma and in breast milk.
Approximately 350 tons of triclosan were used in the European Union in 2005. However, it is still not monitored in many parts of Europe. "Substances that are not on the list of priority substances do not have to be monitored and substances that are not monitored are usually not included on the list, because too little is known about their environmental relevance", says Dr. Peter von der Ohe from the Helmholtz Centre for Environmental Research.
Examining hundreds of pollutants in river ecosystems around the world is a daunting task, however monitoring these chemicals needs to be improved to better protect the health of our ecosystems and the health of our communities.
For more information see the Helmholtz Centre for Environmental Research.
Water testing image via Shutterstock.