U.S. Coast Guard Polar Star to the Rescue!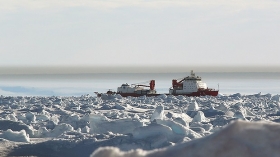 Maritime drama in the Southern Ocean continues! Maritime rescue teams have been getting a great deal of practice lately; this time the U.S. Coast Guard is attempting the rescue of the Russian research ship, Akademik Shokalskiy and now the Chinese icebreaker, Xue Long aka Snow Dragon in Chinese.
The Akademik Shokalskiy has been trapped since Christmas Eve a few miles off the coast of Antarctica near the Dumont d'Urville base. The Xue Long had rescued the marooned passengers on January 2nd, depositing them safely aboard the Australian icebreaker vessel, Aurora Australis and leaving behind the Russian crew of 22. But according to the Australian Maritime Safety Authority, the 15,000-ton Xue Long is also stuck and in need of rescue for its 101 crewmembers on board. The crews of both ships have not been in any danger as they have enough stores for several weeks yet.
Initially the crew of the Aurora Australis who now had the passengers recently rescued by the Xue Long, were told to standby in case the Chinese ship needed a helping hand but then it was decided that the U.S. Polar Star would be a more effective cutter.
The U.S. Coast Guard's Polar Star was on route to Sydney, Australia on January 3rd, one stop on its trek to the U.S. research station in McMurdo Sound. The Polar Star's main mission this season is to break a channel through the sea ice of McMurdo Sound to resupply the U.S. McMurdo station. But while the U.S. ship was still 10 days away, it is a bigger ship. This will leave the Aurora Australis to continue its trip to Hobart, Australia where its research and tourist passengers from the Akademik Shokalskiy can disembark.
"Our highest priority is safety of life at sea, which is why we are assisting in breaking a navigational path for both of these vessels." Vice Adm. Paul F. Zukunft, the Coast Guard Pacific Area commander, said in a statement. "We are always ready and duty bound to render assistance in one of the most remote and harsh environments on the face of the globe."
Most countries observe international maritime conventions whereby ships' crews are obliged to take part in such rescues cooperatively with the owners carrying the costs. This rescue effort has thus far included 5 nations: Australia, China, France, Russia and now the United States.
Read more at the Christian Science Monitor.
Xue Long image by Colin Cosier via the Sydney Morning Herald.