Annual home checkup should include a radon test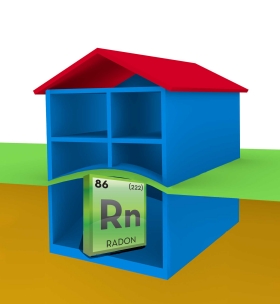 Because 21,000 Americans die each year from radon related lung cancer the EPA recommends an annual testing of radon in the home. By making January "Radon Action Month" homeowners can protect their family from this leading cause of lung cancer among non-smokers by purchasing a DIY test kit for as low as $10.
Radon is a naturally occurring colorless, odorless radioactive gas and is the leading cause of lung cancer among non-smokers. Radon seeps into homes through cracks in basement floors, floor drains, sump pumps, exposed soil construction joints and through loose fitting pipes from outdoor rocks and soil. The existence of radon is determined by existing geology.
The radioactive decay of uranium, radon is found in rocks and surrounding soils. Rocks containing higher amounts of uranium include light-colored volcanic rocks, granites, dark shales, sedimentary rocks containing phosphate, and metamorphic rocks. Although uranium content is variable, higher concentrations of uranium do not guarantee a highest rate of radon. Radon's movement in the soil and presence in the home and is determined by the soil's moisture content, porosity and permeability. 
Typically homes in areas with drier, highly permeable soils and bedrock, such as hill slopes, mouths and bottoms of canyons, coarse glacial deposits, and fractured or cavernous bedrock, have high levels of indoor radon. Even if the radon content of the air in the soil or fracture is in the "normal" range (200-2,000 pCi/L), the permeability permits radon-bearing air to move greater distances before decay, thus contributing to high indoor radon.
However, EPA Administrator Gina McCarthy points out that while radon "can be found in homes all across the country; the only way to know if your home has high levels is to test it. Testing for radon is an easy and affordable way to protect your family's health."
EPA's "Test, Fix, Save a Life" action program includes:
-Test: All homes with or without basements should be tested for radon. DIY test kits are available online and at home improvement stores, or homeowners can hire a qualified radon tester.
-Fix: take action to fix radon levels at or above 4 picoCuries per Liter (pCi/L) and contact a qualified radon-reduction contractor. In most cases, a system with a vent pipe and fan is used to reduce radon. Addressing high radon levels often costs the same as other minor home repairs.
-Save a Life: Fixing elevated levels.
Read more at the USGS and the EPA.
Radon and home images via shutterstock; combined and morphed by Robin Blackstone.