Spitting Sulfates!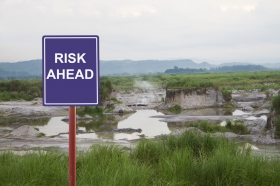 In 1991, Mount Pinatubo in the Philippines erupted in one of the largest volcanic blasts of the 20th century. It spat up to 20 million tons of sulfur into the upper atmosphere, shielding the earth from the sun's rays and causing global temperatures to drop by nearly half a degree Celsius in a single year.  That's more than half of the amount the planet has warmed due to climate change in 130 years.
Now some scientists are thinking about replicating Mount Pinatubo's dramatic cooling power by intentionally spewing sulfates into the atmosphere to counteract global warming. Studies have shown that such a strategy would be powerful, feasible, fast-acting, and cheap, capable in principle of reversing all of the expected worst-case warming over the next century or longer, all the while increasing plant productivity. Harvard University physicist David Keith, one of the world's most vocal advocates of serious research into such a scheme, calls it "a cheap tool that could green the world." In the face of anticipated rapid climate change, Keith contends that the smart move is to intensively study both the positive and negative effects of using a small fleet of jets to inject sulfate aerosols high into the atmosphere to block a portion of the sun's rays.
Yet even Keith acknowledges that there are serious concerns about solar geoengineering, both in terms of the environment and politics. Growing discussion about experimentation with solar radiation management has touched off an emotional debate, with proponents saying the technique may be needed to avert climate catastrophe and opponents warning that deployment could lead to international conflicts and unintended environmental consequences — and that experimentation would create a slippery slope that would inevitably lead to deployment. University of Chicago geophysicist Raymond Pierrehumbert has called the scheme "barking mad." Canadian environmentalist David Suzuki has dismissed it as "insane." Protestors have stopped even harmless, small-scale field experiments that aim to explore the idea. And Keith has received a couple of death threats from the fringe of the environmentalist community.
Clearly, there are good reasons for concern. Solar geoengineering would likely make the planet drier, potentially disrupting monsoons in places like India and creating drought in part of the tropics. The technique could help eat away the protective ozone shield of our planet, and it would cause air pollution. It would also do nothing to counteract the problem of ocean acidification, which occurs when the seas absorb high levels of CO2 from the atmosphere.
Read more at Yale 360.
Mount Pinatubo image via Shutterstock.