Land conflicts complicate effort to spare forests from palm oil in Borneo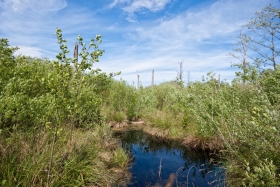 A widely-heralded effort to spare carbon-dense rainforests and peatlands from palm oil development in Indonesian Borneo is facing new criticism after an investigation by rights groups found evidence of unresolved conflicts over community land.
The report, published Friday by the Forest Peoples Program and TUK-Indonesia, looked at a carbon conservation pilot project run by Golden Agri Resources (GAR), a Singapore-based agribusiness giant that is one of Indonesia's largest palm oil producers. GAR owns PT Kartika Prima Cipta (PT KPC), a palm oil company that operates in West Kalimantan's Kapuas Hulu district.
KPC's concession has been controversial since it began operations in 2007, because it acquired a permit to convert land used traditionally by small farmers, according to the report. As is often the case in Indonesia, community members saw little compensation, had limited recourse to reject the project, and had poor understanding of the contracts they ultimately signed.
"Nugatory compensation was paid to community members while getting them to permanently surrender their lands, through an unclear process which gave them the false impression that they could get their lands back after 30 years," states the report. "Not a single one of the hundreds of farmers who unwittingly sold their lands to PT KPC has a copy of the contract."
While the scenario is strikingly common in Indonesia, the difference with the KPC concession is that the situation wasn't immediately rectified once GAR signed its breakthrough forest conservation policy. The policy, signed in 2011 after a damaging campaign by environmental groups, commits GAR to protect high carbon stock forests and high conservation value areas, while seeking free, prior informed consent from local communities before developing new plantations.
In fact, argues the report, the GAR's forest conservation policy may have made the situation worse by exacerbating conflict within communities and effectively sanctioning the shift of lands traditionally managed by communities over to company ownership. The net result is the proposed conservation set asides "are deeply unpopular both with those communities refusing the company's presence and with those that have pinned their hopes on oil palm," according to the report.
Marcus Colchester, Senior Policy Advisor at the Forest Peoples Program and lead author of the report, explained that the forest conservation policy — as it currently stands — will limit the ability of communities to continue their traditional livelihoods.
Read more from our affiliate, MONGABAY.
Peat bog image via Shutterstock.