Study predicts climate change and pollution will combine to impact food production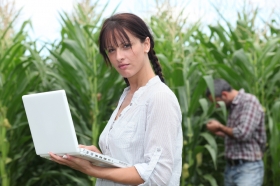 Many studies have shown the potential for global climate change to cut food supplies. But these studies have, for the most part, ignored the interactions between increasing temperature and air pollution -- specifically ozone pollution, which is known to damage crops.
A new study involving researchers at MIT shows that these interactions can be quite significant, suggesting that policymakers need to take both warming and air pollution into account in addressing food security.
The study looked in detail at global production of four leading food crops -- rice, wheat, corn and soy -- that account for more than half the calories humans consume worldwide. It predicts that effects will vary considerably from region to region, and that some of the crops are much more strongly affected by one or the other of the factors. For example, wheat is very sensitive to ozone exposure, while corn is much more adversely affected by heat.
The research was conducted by Colette Heald, an associate professor of civil and environmental engineering at MIT, former program postdoc Amos Tai, and Maria van Martin at Colorado State University.
Heald said that while it's known that both higher temperatures and ozone pollution can damage plants and reduce crop yields, "nobody has looked at these together." And while rising temperatures are widely discussed, the impact of air quality on crops is less recognized.
The effects are likely to vary widely by region, the study predicts. In the United States, tougher air-quality regulations are expected to lead to a sharp decline in ozone pollution, mitigating its impact on crops. But in other regions, the outcome "will depend on domestic air-pollution policies," Heald said. "An air-quality cleanup would improve crop yields."
Farming couple with laptop in corn field image via Shutterstock.
Read more at EcoRi.