The Views of Mars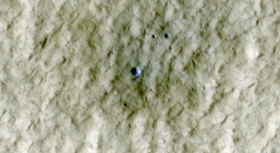 Of all the planets in our solar system Mars has always been the one most dreamers think of. Many science fiction myths have been based on Mars such as Edgar Rice Burroughs Barsoom and its many canals as well as the Ray Bradbury Martian Chronicles. All dreamed of a friendlier Mars than has been found. Now all can see detailed images of Mars. The latest set of new images from the telescopic High Resolution Imaging Science Experiment Camera on NASA's Mars Reconnaissance Orbiter offers detailed views of diverse Martian landscapes.
Features as small as desks are revealed in the 314 observations made between June 6 and July 7, 2010, now available on the camera team's site and NASA's Planetary Data System. Consider the image with this article. What is that shiny object in the center?
The camera is one of six instruments on NASA's Mars Reconnaissance Orbiter, which reached Mars in 2006.
In its six-and-a-half years on Mars, NASA's Mars Exploration Rover Opportunity had never seen a dust devil before July 2010, despite some systematic searches in past years and the fact that its twin rover, Spirit, has seen dozens of dust devils at its location halfway around the planet.
Dust storms, much less dust devils, have been known to obscure the entire planet for a long time.
A tall column of swirling dust appears in a routine image that Opportunity took with its panoramic camera on July 15. "This is the first dust devil seen by Opportunity," said Mark Lemmon of Texas A&M University, College Station, a member of the rover science team. Orbiters have photographed tracks left by dust devils near Opportunity, but the tracks are scarcer there than near Spirit. Swirling winds at Meridiani may be more common than visible signs of them, if the winds occur where there is no loose dust to disturb.
No canals, seas, or domed cities have been found. Sinuous valleys carved by water have been found as well as other faint signs of long ago water flows. Viewing the images shows us what Earth might one day be if our oceans dried up and our atmosphere was lost.
For further information: http://www.jpl.nasa.gov/news/news.cfm?release=2010-256&rn=news.xml&rst=2692 or http://hirise.lpl.arizona.edu/