Is cloud seeding preventing further flooding in Indonesia?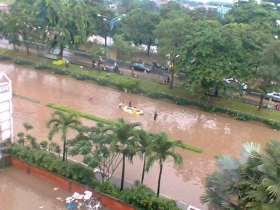 Indonesia is banking on an unusual strategy to prevent further flooding in its inundated capital Jakarta, and officials claim that they are already seeing positive results. They are using cloud seeding — a weather modification technology often resorted to during drought. The method involves injecting clouds with substances that encourage the formation of ice crystals heavy enough to fall, thereby speeding up the production of rain.
Rain is the last thing that Indonesia needs now, as it has been experiencing heavy rainfall since mid-January.
But Indonesian scientists believe that inducing rains to fall over the ocean before the rainclouds reach the city will help prevent further flooding in Jakarta.
"We are mimicking nature. It is easy to make rain in most clouds above the sea. We found out that salt from sea water, which evaporates from the sea, accelerates the rain process because it encourages the cloud particles to adsorb water," Tri Handoko Seto, a top official of the Weather Modification Technical Unit of the Agency for the Assessment and Application of Technology, tells SciDev.Net.
Article continues at Seeding
Jakarta Flood image via  Wikipedia.