Falling fruit: A global collaborative foraging map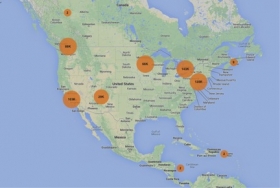 Foraging for fruit just got easier, with a map bringing together foraging data around the world. Thought to be the first effort on such a large scale, Falling Fruit is a massive, collaborative urban harvesting map that aims to reduce waste while reconnecting people to their environments.
Around 500 species are currently shown on the map, across locations as diverse as Australia, India, Mauritius, Israel and the Netherlands. It's just launched in the UK, collating more than 30 isolated maps from across Britain. 
Falling Fruit is the creation of two Americans, photographer and environmental studies researcher Ethan Welty and University of Colorado computer science adjunct professor Caleb Phillips, who met at Boulder Food Rescue, a not-for-profit that redistributes food thrown away by retailers to organizations that feed the hungry. The pair bonded over an interest in sharing the urban harvest with as many people as possible.
The map is open source, and new locations for fruit trees can be uploaded by anyone. The site also offers the option to set up a personal account, for those who want to access additional features. These include "foraging range" emails, which update users on what's been added in their area, and a "routes" feature, which allows people to string together their favourite foraging locations into a walking or biking tour and share the itinerary with friends.
Ethan and Caleb report that they've been overwhelmed by the positive response to the map. The project has generally been well received by foragers and new locations are being added every day. They believe it could be the first step towards something much bigger.
Ethan says he sees the map as part of a larger movement towards the rethinking of urban spaces, driven by the way many of us have been distanced from our food and the renewed interest in self-sustenance.
"The first goal is to be the global authority on the urban harvest in foraging locations around the world," he explains. "But a more lofty goal is to make a platform that's so impressive in its scale that it'll reach people who haven't had this idea before themselves. So we want to reach non-converts and get them thinking about and indulging in foraging in their neighborhoods."
Continue reading at ENN affiliate, The Ecologist.
Map image via FallingFruit.org.