NASA's latest satellite data reveals global sea level rise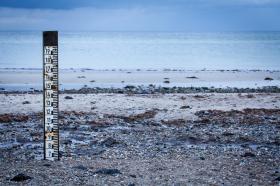 Global sea levels have risen nearly 3 inches in less than 25 years, with some locations around the world rising more than 9 inches, according to NASA's latest satellite data.
An intensive research effort now underway, aided by NASA observations and analysis, points to an unavoidable rise of several feet in the future.
"Given what we know now about how the ocean expands as it warms and how ice sheets and glaciers are adding water to the seas, it's pretty certain we are locked into at least 3 feet of sea level rise, and probably more," said Steve Nerem of the University of Colorado, Boulder, and lead of the Sea Level Change Team. "But we don't know whether it will happen within a century or somewhat longer."
Team scientists have released new forecasts based on 23 years of sea level data – the entire record of available satellite data - which reveals changes are anything but uniform around the globe. The record is based on data from three consecutive satellite missions, the first a collaboration between NASA and the French space agency, Centre National d'Études Spatiales, launched in 1992.
The next in the series is Jason-3, led by the National Oceanic and Atmospheric Administration (NOAA) with participation by NASA, CNES and the European Organisation for the Exploitation of Meteorological Satellites
In 2013, the United Nations Intergovernmental Panel on Climate Change (IPCC) issued an assessment based on a consensus of international researchers that stated global sea levels would likely rise from 1 to 3 feet by the end of the century. According to Nerem, new research available since this report suggests the higher end of that range is more likely, and the question remains how that range might shift upward.
The data reveal the height of the sea surface is not rising uniformly everywhere. Regional differences in sea level rise are dominated by the effects of ocean currents and natural cycles such as the Pacific Decadal Oscillation (PDO). But, as these natural cycles wax and wane, they can have major impacts on local coastlines.
"Sea level along the west coast of the United States has actually fallen over the past 20 years because long-term natural cycles there are hiding the impact of global warming," said Josh Willis, an oceanographer at NASA's Jet Propulsion Laboratory (JPL) in Pasadena, California. "However, there are signs this pattern is changing. We can expect accelerated rates of sea level rise along this coast over the next decade as the region recovers from its temporary sea level 'deficit.'"
Continue reading at ENN affiliate, ClickGreen.
Tidal marker image via Shutterstock.