Not All Cool Pavements Are Created Equal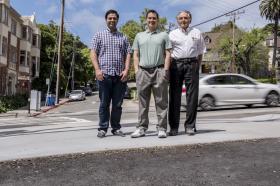 Cool pavements can help keep cities cool, right? Yes, but according to new research from the Department of Energy's Lawrence Berkeley National Laboratory (Berkeley Lab), many reflective pavements have some unexpected drawbacks relative to conventional pavements when considering the entire life cycle of the materials.
Scientists in Berkeley Lab's Heat Island Group, in collaboration with the UC Pavement Research Center (UCPRC), the University of Southern California (USC), and thinkstep Inc., conducted life cycle assessments of conventional and cool pavements. Looking at the technologies over a span of 50 years, including manufacture, installation, use, and disposal/recycling, they found that the extra energy and emissions embodied in cool pavement materials usually exceed the expected energy and emissions savings from reduced space conditioning (cooling and heating) in buildings.
"This study provides an important perspective on the trade-offs of cool pavements and gives cities a tool to understand them for their particular setting," said Berkeley Lab researcher Haley Gilbert. "I cannot go to a city and say, 'Cool pavements are good,' without letting them know that there could be negative environmental consequences from deployment."
Continue reading at DOE / Lawrence Berkeley National Laboratory
Image: Berkeley Lab Heat Island Group researchers Pablo Rosado (from left), Ronnen Levinson, and Mel Pomerantz (Credit: Marilyn Chung / Berkeley Lab)