NOAA, partners predict significant summer harmful algal bloom for western Lake Erie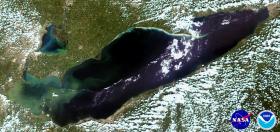 NOAA and its research partners predict that western Lake Erie will experience a significant harmful algal bloom this summer, potentially reaching levels last seen in 2013 and 2014, though smaller than the record bloom of 2015.
This year's bloom is expected to measure 7.5 on the severity index, but could range between six and 9.5. An index above five indicates a potentially harmful bloom. The severity index is based on a bloom's biomass – the amount of its harmful algae – over a sustained period. The largest blooms, 2011 and 2015, were 10 and 10.5, respectively.
Early season projections from NOAA and its partners predicted a larger than normal bloom. This is the final seasonal forecast. The Lake Erie forecast is part of a NOAA ecological forecasting initiative that aims to deliver accurate, relevant, timely and reliable ecological forecasts directly to coastal resource managers and the public.
Read more at National Oceanic and Atmospheric Administration (NOAA)
Satellite Image Credits: NASA / NOAA