Finding leaks while they're easy to fix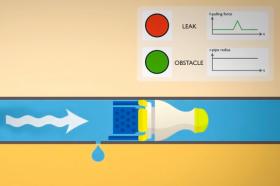 Access to clean, safe water is one of the world's pressing needs, yet today's water distribution systems lose an average of 20 percent of their supply because of leaks. These leaks not only make shortages worse but also can cause serious structural damage to buildings and roads by undermining foundations.
Unfortunately, leak detection systems are expensive and slow to operate — and they don't work well in systems that use wood, clay, or plastic pipes, which account for the majority of systems in the developing world.
Now, a new system developed by researchers at MIT could provide a fast, inexpensive solution that can find even tiny leaks with pinpoint precision, no matter what the pipes are made of.
The system, which has been under development and testing for nine years by professor of mechanical engineering Kamal Youcef-Toumi, graduate student You Wu, and two others, will be described in detail at the upcoming IEEE/RSJ International Conference on Intelligent Robots and Systems (IROS) in September. Meanwhile, the team is carrying out tests this summer on 12-inch concrete water-distribution pipes under the city of Monterrey, Mexico.
Read more at Massachusetts Institute of Technology
Image: Researchers have developed a fast, inexpensive robotic device that can find even tiny leaks in pipes with pinpoint precision, no matter what the pipes are made of. Courtesy of the researchers