Mountain glaciers recharge vital aquifers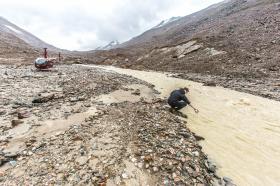 Small mountain glaciers play a big role in recharging vital aquifers and in keeping rivers flowing during the winter, according to a new study published in Geophysical Research Letters, a journal of the American Geophysical Union.
The study also suggests that the accelerated melting of mountain glaciers in recent decades may explain a phenomenon that has long puzzled scientists — why Arctic and sub-Arctic rivers have increased their water flow during the winter even without a correlative increase in rain or snowfall.
"I think that mountain glaciers in the Arctic and sub-Arctic have really been underappreciated as a source of water to the landscape," said Anna Liljedahl, the lead author and an associate professor at the University of Alaska Fairbanks' Water and Environmental Research Center.
Liljedahl and her co-authors at the U.S. Geological Survey and U.S. Army Corps of Engineers' Cold Regions Research and Engineering Laboratory studied a watershed in a semidry climate in the eastern Alaska Range. The team looked at how meltwater from two small mountain glaciers flowed through the system and influenced the mountain streams, rivers and groundwater all year long.
Read more at University of Alaska Fairbanks
Photo: A UAF researcher grabs a water sample for geochemical analysis at the mouth of the Jarvis Glacier. (Credit: Todd Paris)