Incomplete Drought Recovery May Be The New Normal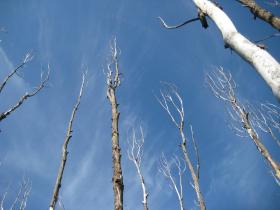 The amount of time it takes for an ecosystem to recover from a drought is an important measure of a drought's severity. During the 20th century, the total area of land affected by drought increased, and longer recovery times became more common, according to new research published by Nature by a group of scientists including Carnegie's Anna Michalak and Yuanyuan Fang.
Scientists predict that more-severe droughts will occur with greater frequency in the 21st century, so understanding how ecosystems return to normal again will be crucial to preparing for the future. However, the factors that influence drought recovery have been largely unknown until now.
"Research has usually focused on the amount of rain and other precipitation that ends the deficit of water that causes a drought, but assessments of drought-recovery need to account for the restoration of normal plant function," explained Michalak.
The team—including three other alumni of Carnegie Global Ecology research groups William Anderegg (University of Utah), Adam Wolf (Arable Labs Inc.), and Deborah Huntzinger (Northern Arizona University)—used measures of photosynthetic activity to assess drought recovery. Quantifying how long it took for plant productivity to return to normal gave the researchers a better understanding of the longevity of a drought's effects.
Read more at Carnegie Institution for Science
Image: Drought-affected aspen trees in Colorado. The paper's authors argue that assessments of drought-recovery need to account for the restoration of normal plant function, not just the amount of precipitation. (Credit: William and Leander Anderegg)