WHY YOUR ANCESTORS WOULD HAVE ACED THE LONG JUMP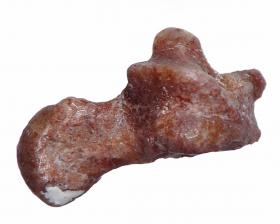 A 52-million-year-old ankle fossil suggests our prehuman ancestors were high-flying acrobats.
These first primates spent most of their time in the trees rather than on the ground, but just how nimble they were as they moved around in the treetops has been a topic of dispute.
For years, scientists thought the ancestors of today's humans, monkeys, lemurs and apes were relatively slow and deliberate animals, using their grasping hands and feet to creep along small twigs and branches to stalk insects or find flowers and fruits.
But a fossil study published in the October 2017 issue of the Journal of Human Evolution suggests the first primates were masters at leaping through the trees.
Paleontologists working in a quarry in southeastern France uncovered the quarter-inch-long bone, the lower part of the ankle joint.
Continue reading at Duke University
Photo: This tiny ankle bone belonged to one of the earliest members of the primate family tree. The 52-million-year-old fossil suggests that the first primates were expert leapers.
Photo by Douglas Boyer, Duke University.