NASA Sees a Weaker Hurricane Lee Headed to the U.K.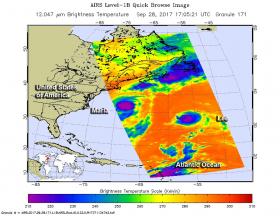 NASA and NOAA satellite imagery show Hurricane Lee has been on a weakening trend as wind shear is battering the storm. The National Hurricane Center expects Lee to weaken quickly and its remnants to bring gusty winds to Ireland and the United Kingdom over the weekend of Sept. 30 and Oct. 1.
NASA's Aqua satellite and NOAA's GOES satellite provided different views of Hurricane Lee that showed the storm was being adversely affected by wind shear and is not as strong and organized as it was earlier in the week.
Continue reading at NASA/Goddard Space Flight Center
Image: The AIRS instrument aboard NASA's Aqua satellite captured infrared data on Hurricane Lee (right) and Tropical Storm Maria (left) on Sept. 28 at 1:05 p.m. EDT (17:05 UTC). Strongest storms appear in purple.
Credits: NASA JPL, Ed Olsen