University of Toronto biologists discover an epigenetic key to unlock behavioural change in fruit flies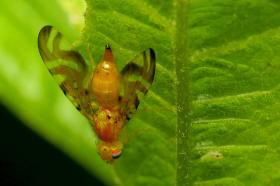 When it comes to behaviour, researchers have moved beyond the "nature versus nurture" debate. It's understood that genes and environment both play a role. However, how they interact at a molecular level to shape behaviour is still unclear.
A new study led by scientists at the University of Toronto sheds valuable light on this relationship. The paper, published in Proceedings of the National Academy of Sciences of the United States of America, reveals how epigenetics – changes in gene expression that do not change DNA – interact with genes to shape different feeding behaviours in fruit flies. This research unlocks the molecular mechanism that leads "rover" flies to forage for food more than "sitter" flies.
It is the first study of its kind to show a causal link between epigenetics, genetics and behaviour. "We have an empirical example of how this interaction is important for differences in any sorts of behaviour," says lead author Ina Anreiter. She adds that these findings could help researchers understand how individuals' behaviours differ, whether fruit flies, mice or even humans.
Anreiter is a PhD candidate in the lab of University Professor Marla Sokolowski in the department of ecology and evolutionary biology at U of T's Faculty of Arts & Science. Sokolowski, who is also co-director of the Child & Brain Development program at the Canadian Institute for Advanced Research (CIFAR) and a CIFAR Weston Fellow, has been studying the "foraging gene" in fruit flies since she first discovered it in the 1980s. The research was funded partly by CIFAR and conducted in collaboration with Jamie Kramer at Western University.
Continue reading at University of Toronto.
Photo via University of Toronto.