NASA-NOAA Satellite Sees Typhoon Lan's 50 Nautical-Mile Wide Eye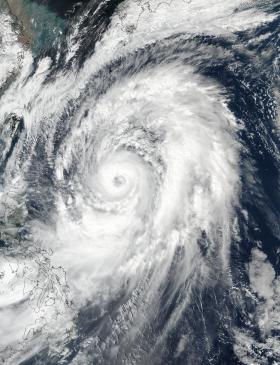 NASA-NOAA's Suomi NPP satellite passed overhead and captured an image of Typhoon Lan in the Northwestern Pacific Ocean and saw a well-organized storm with a clear eye that was 50 nautical miles in diameter.
The Visible Infrared Imaging Radiometer Suite (VIIRS) instrument aboard NASA-NOAA's Suomi NPP satellite took a visible light picture of Lan on Oct. 20 at 12:30 a.m. EDT (0430 UTC). From space, Suomi NPP showed a well-formed, circular eye with some high clouds. The eye was surrounded by powerful thunderstorms spiraling into the center of circulation.
The Joint Typhoon Warning Center noted "Infrared satellite imagery shows expansive and deep convective bands circling a central dense overcast feature that is tightly wrapping into a large 50-nautical-mile wide symmetrical eye."
Read more at NASA/Goddard Space Flight Center
Image: NASA-NOAA's Suomi NPP satellite took a visible light picture of Typhoon Lan on Oct. 20 at 12:30 a.m. EDT (0430 UTC) and saw a clear eye in the powerful hurricane. (Credit: NOAA/NASA Goddard Rapid Response Team)