Post-concussion brain changes persist even after pre-teen hockey players return to play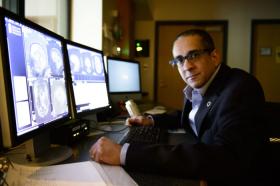 Young hockey players who have suffered concussions may still show changes in the white matter of the brain months after being cleared to return to play, researchers at Western University have found through sophisticated Magnetic Resonance Imaging (MRI) techniques.
The study, published in the October 25, 2017, online issue of Neurology®, the medical journal of the American Academy of Neurology, looked at MRI brain scans from 17 Bantam-level hockey players between the ages of 11 and 14, who suffered a concussion during the regular season and who were compared to an age-matched control of non-concussed players.
The athletes underwent MRI testing within 24 – 72 hours of the initial concussion, and again three months post-concussion, at which time all players reported no symptoms on clinical evaluations and were cleared to return to play following the standard concussion consensus Return to Play protocol. Most of the concussions were a result of falls that resulted in a hit to the back of the head.
Continue reading at Western University.
Photo via Western University.